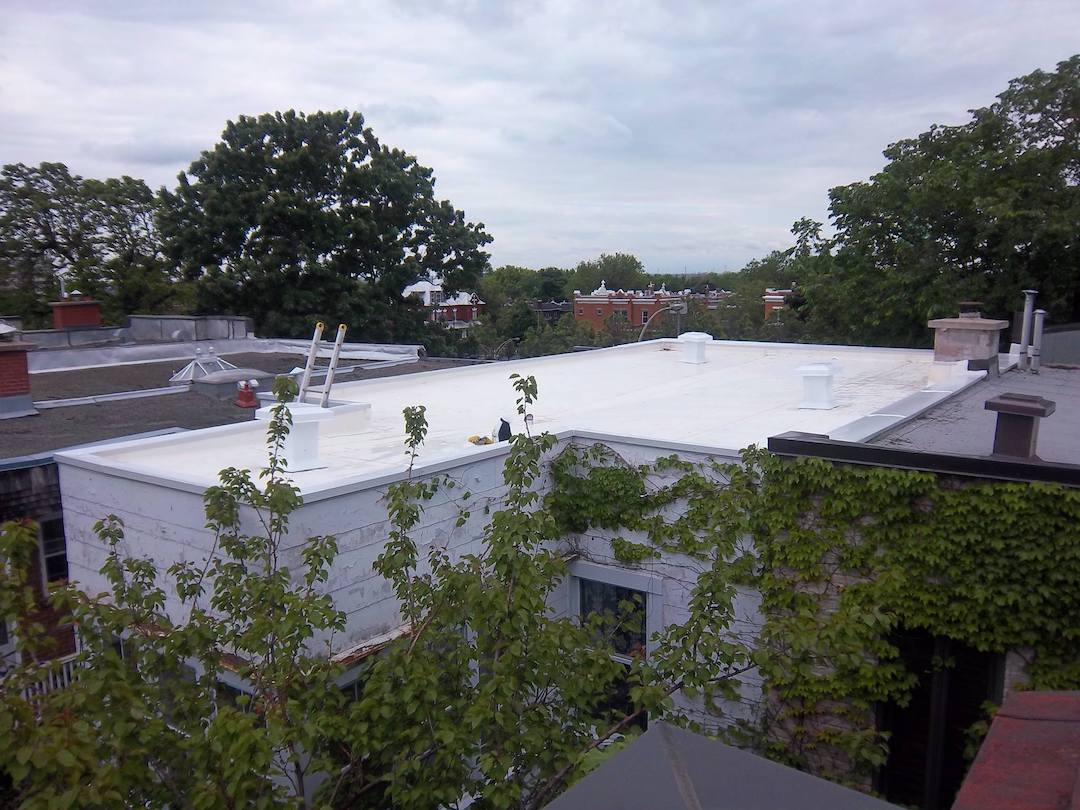 Elastomer vs. TPO vs. EPDM: What are the differences for flat roofs?
You have to renovate your roof but you do not know the cost of the work and the price of the different materials? How to verify the many products that exist on the market? The specialists of Clinique de la toiture FCA in Montreal will guide you in choosing the best material according to your needs and your budget. Do not entrust your roof repair to just anyone and think about Clinique de la toiture FCA, which has the best roofers in Montreal!
Here is an overview of the different materials we use for our flat roofs.
The elastomeric membrane
Replacing the gravel found on asphalt roofs, the elastomer is a modified bitumen membrane that is installed with a blowtorch. Its main disadvantage lies precisely in the use of the blowtorch, which significantly increases the risks of fire. The business owner then has to stay on site for a few hours to ensure no fire will start. If, at some point in time, elastomer was the most economical choice, these days, it is no more the case, since a TPO membrane costs a similar price, but with the added bonus of little to no fire risks. Why "play with fire" by choosing elastomer when, for a similar price, you could have peace of mind with a TPO membrane?
The TPO membrane
As white roofs are increasingly present in Montreal, Laval and elsewhere in Québec, the TPO roof has been gaining popularity in recent years. Particularly resistant to bad weather conditions as well as to large variations in temperature, it has the particularity of reflecting the sun's radiation rather than absorbing it. As a result, it helps reduce heat islands and is ideal if you want a roof terrace. It is also fully recyclable at the end of its useful life, making it an environmentally friendly choice!
The EPDM membrane
Like the TPO roof, the EPDM membrane is a white (or black) monolayer and it offers a high resistance to frost, extreme heat and UV rays. Ideal for roof repairs and new constructions, it is also fully recyclable and helps reduce heat islands in the city.
No matter what your commercial and industrial roofing needs are, Clinique de la toiture FCA is the answer! Whether you are renovating or repairing your roof, you can be assured of an excellent return on your investment (ROI) and prevent any damage, for instance caused by water infiltration, to the structure of your building.
To find out more about our products and services, contact us as of today at Clinique de la toiture FCA in Montreal and get your free cost estimation!
Was this article helpful to you? Share it!
Leave us your email address and we will contact you as soon as possible to assess your needs!
Put an end to your water infiltration your clogged drains your roof problems
Leave us your email address and we will contact you as soon as possible to assess your needs!