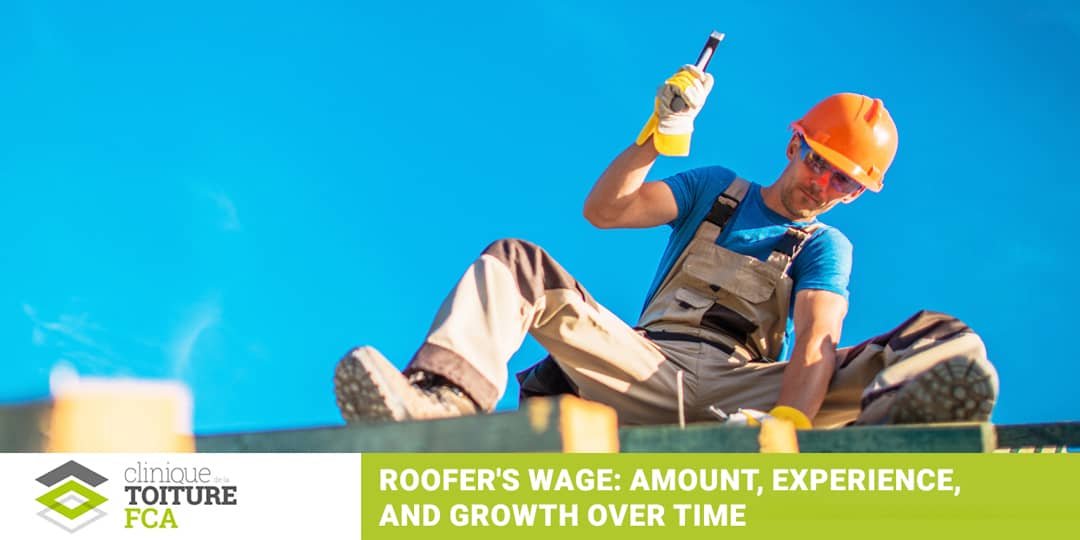 Roofer's wage: amount, experience, and growth over time
Do you like heights, teamwork and are in good physical condition? The profession of roofer could well suit you: roof covering is an essential profession which therefore has a constant need for manpower.
Learn more about the trade and particularly about the salary of roofers over the years.
Description of the roofing trade
The roofing trade covers every operation related to the installation of roof coverings, including the preparation of the roofing framework, various processes (lifting, maintenance, stripping, etc.), as wall as repairing and insulating roofs.
If you want to become a roofer, obtaining a Diploma of Vocational Studies (DVS) in roofing will be the first step. The CCQ will also ask you to present an employment guarantee of at least 150 hours over a period of 3 months from a registered employer.
After completing these steps, you will receive your Certificate of Qualification as an Apprentice to the trade. You will then need to complete 2 apprenticeship periods totalling 4000 hours. Once this is done, you can register for the Provincial Qualification Examination and, if you pass the examination, you will be certified as a journeyman in the trade.
What is the average wage of a roofer?
It's important to remember that a roofer's wage increases based on their title: at first, the wage for apprentices is 70%, then 85% of the journeyman's wage. Your wage will also depend on the sector in which you work: light residential work pays a little less than the industrial, institutional and commercial sectors as well as the field of civil engineering. Note that the institutional and commercial sectors account for 80% of the workload in the trade, while the residential sector accounts for 18%.
According to the CCQ, in April 2019 the collective agreement provided for an hourly wage ranging from $26.50 for a first-period apprentice working in the light residential sector to $41.14 for a journeyman in the civil engineering and road sectors. As you can see, wages vary greatly depending on your experience.
The government Job Bank website estimated a median wage of $30/hr in Quebec last year.
Here is an overview of the income of a roofer earning this wage and working 37.5 hours/week:
| | |
| --- | --- |
| Hourly wage | $30 |
| Daily wage | $225 |
| Weekly wage | $1125 |
| Monthly wage | $4875 |
| Annual wage | $58500 |
According to the Commission de la Construction du Québec (CCQ), the annual wage for roofers averaged $21,158 for apprentices in 2017 and $40,530 for journeymen in 2018. However, their calculation included everyone who worked at least 1 hour.
Journeymen who worked more than 500 hours, which represent 69% of journeymen in 2018, earned an average of $55,601.
As you can imagine, gross wages are different from the amount of money you will actually have in your pocket. Also note that there is a significant difference between the wages of an apprentice and those of an experienced journeyman, and therefore the tax rates paid will change from one roofer to another.
With this in mind, let's take the example of the median wage earner working 37.5 hours/week: their tax rate would be 28%, and therefore their net pay would be $42,111.
Roofing wage: Quebec vs. Canada
The results published by the Canadian Job Bank show that there is a slight difference in wages between the province and the rest country of the country. As we mentioned, the median wage in Quebec is $30/hr; in Canada, it is $26/hr. Assuming a 37.5-hour work week, the annual wage for a roofer is $58,500 in Quebec or $50,700 in Canada in 2021.
There are relatively important differences in wages from one province to another: some offer more, others less, but roofers in Quebec earn quite well.
Roofer's wage vs. experience
The roofing trade is essentially divided into three levels: two apprenticeship periods and then the journeyman period. The wage grading scale is also well defined in the collective agreement. In the industrial, institutional, and commercial sectors, hourly wages for roofers for these three phases in 2019 were $28.53, $34.64, and then $40.75, respectively.
Roofer's wage in 2020, 2021 and 2022
The wages of journeymen increased between April 25, 2020 and April 25, 2021: depending on the sector, hourly wages rose between 76 and 88 cents per hour. While wages for 2022 are not yet known, we can say that the placement rate has trended upward in recent years.
In short, a roofer's wage varies according to their title. What's more, it tends to increase considerably with experience and is subject to significant annual increases in the CCQ collective agreement.
Interested in this trade? Then go for it!
Was this article helpful to you? Share it!
Leave us your email address and we will contact you as soon as possible to assess your needs!
Put an end to your water infiltration your clogged drains your roof problems
Leave us your email address and we will contact you as soon as possible to assess your needs!