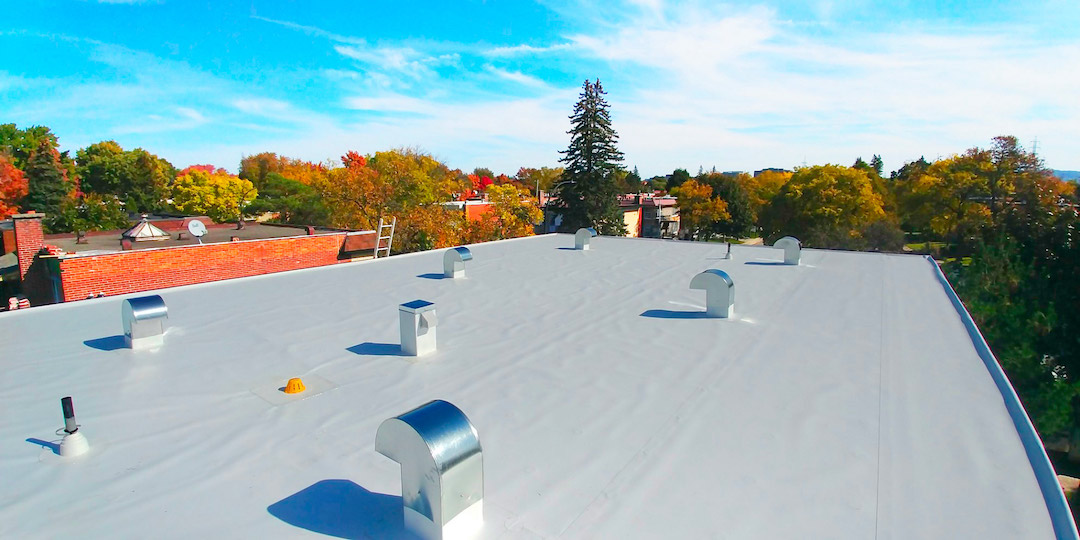 TPO Membrane vs Elastomeric Membrane: What are the advantages?
Choosing your roof covering can be complicated due to the wide range of materials available on the market, but especially due to the climate in Quebec. This is why it is important to do your research before embarking on a major project.
Clinique de la toiture FCA invites you to discover the main differences between a TPO membrane and an elastomer roof. Let's get started!
TPO membrane vs. elastomer
Durability of the TPO membrane
The TPO membrane has a huge advantage over other types of roofing: its durability! This membrane has a lifespan of up to 40 years, provided the installation is properly handled. Note that regular inspection is recommended.
TPO roofs are resistant to heat, UV rays and bad weather. Their membrane is solid and able to withstand even the biggest storms. As you will have understood, TPO membranes are made to protect your roof from many damages on the long term.
Durability of the elastomeric membrane
The elastomeric membrane has a service life that can reach up to 35 years. It is resistant to wide temperature variations and adapts well to the Quebec climate.
Note: Please note that both types of membranes are resistant and durable, but they are not indestructible. Tree branches or wear caused by repeated trampling can damage the membranes. Be careful in all cases!
TPO vs. elastomer: maintenance comparison
When it comes to maintenance measures, the TPO membrane may be a better investment if, like us, you like when things are done right, once and for all!
Although both membranes are weather resistant, the elastomeric membrane is more liable to problems related to standing water, due to its petroleum-based rubber composition.
Over the long term, standing water on flat roofs tends to cause the joints to crack. Elastomer therefore requires a little more maintenance than TPO to extend its lifespan.
Note: Although elastomer requires more frequent maintenance, the membrane is also easier to repair.
TPO membrane vs. elastomer: installation method
Unlike elastomer, which is installed with a blowtorch, a TPO membrane is applied using a hot-air gun. Hot-air welding is safer than installation by blowtorch, which presents a fire hazard if certain safety rules are not followed.
Hot-air welding also offers better resistance over time and unparalleled watertightness compared to any other membrane!
Note: We recommend the intervention of qualified roofers for the installation of both types of membrane.
TPO vs. elastomer: costs!
TPO membrane is more affordable
Less expensive than other materials—including elastomer—the TPO membrane offers an incomparable price-performance ratio.
Installation costs
During the break, the base layer of the elastomeric membrane can be fixed mechanically or with adhesive strips, while the second layer (finishing membrane) is torch-welded to the first layer.
The TPO membrane has a single layer and is fastened by welding the joints and edges of the roof with a hot-air gun. This significantly reduces labor time and labor costs.
In addition, an elastomeric membrane roof requires more insulation than a TPO roof, again saving material and time (and therefore money) for the customer.
For these reasons, a flat TPO roof generally costs 15 to 20% less than a flat elastomeric roof.
TPO vs. elastomer: which membrane is more environmentally friendly?
There are no chemicals in the composition of the TPO (thermoplastic polyolefin), and it has an increased resistance to bacteria, mold and pollutants.
Its long-life cycle makes it particularly attractive, and TPO is fully recyclable at the end of its useful life (unfortunately, not in Quebec).
What is more, the installation of a TPO membrane by hot-air welding is more environmentally friendly than installing a petroleum-based product such as elastomer with a blowtorch.
TPO membrane vs. elastomer: energy efficiency
TPO membrane reduces heat islands
The membrane's white color reflects the sun's rays and thus limits the formation of heat islands. TPO roofs are therefore particularly appreciated in urban areas for this reason.
The second advantage of having a white roof comes from the reduced air conditioning costs. When summer arrives, your house can quickly become a full-size oven when you have a black (or dark) roof.
To counteract this effect, we often leave the air conditioning and fans on all day long. This method works but is not very efficient… not to mention that the Hydro bill at the end of the summer is as expensive as in winter!
When you have a TPO membrane roof, the heat accumulation is much less present than with the elastomer membrane, which allows you to enjoy your interior in the summer without paying a fortune in electricity, and while being more eco-friendly (less energy consumption).
Conclusion: tpo vs. elastomer?
As you may have noticed, each product has its advantages and disadvantages, depending on where you live, the use of your roof, your renovation budget, as well as the maintenance required and your energy consumption.
At Clinique de la toiture FCA, we prefer TPO membrane installations for the reasons mentioned in this article.
If you need more advice regarding flat roofs and membrane types in Quebec, please contact us and we will be happy to answer you.
See you soon!
Was this article helpful to you? Share it!
Leave us your email address and we will contact you as soon as possible to assess your needs!
Put an end to your water infiltration your clogged drains your roof problems
Leave us your email address and we will contact you as soon as possible to assess your needs!