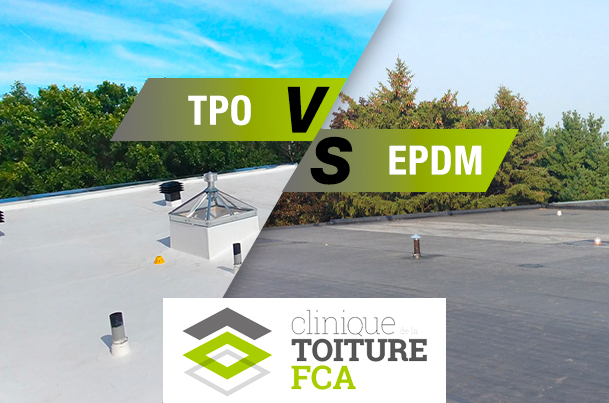 TPO vs EPDM membrane: which is more durable?
A flat roof covering is usually made of a TPO or EPDM membrane, which has a lifespan of over 20 years.
But which of these two systems is more durable?
Here is a short comparison of TPO vs. EPDM that outlines the advantages of each of these roofing membranes!
EPDM membrane
Mainly installed between 2008 and 2015, the EPDM (ethylene, propylene, diene, monomer) membrane is no longer available to be installed as a roof replacement; however, if this system is already in place on your roof, it will still be possible to have it repaired, although many roofers no longer offer this service.
TPO membrane
The TPO (or thermoplastic olefin) membrane has been a great success and has gradually replaced EPDM membranes for roofing applications. Only available in white, it has gained in popularity due to the many borough and municipal regulations requiring flat roofed buildings to be fitted with white roofing membranes.
TPO vs EPDM
These two roofing materials have many characteristics in common and are resistant to, among other things:
Large temperature variations and bad weather,
Fire,
UV radiation,
Insects and bacteria,
Tears,
Airborne pollutants and mould.
Both TPO and EPDM membranes are easy to maintain and have exceptional longevity, although they can be damaged by branches or debris, for example. They should therefore be inspected regularly and repaired as soon as possible if a tear or an infiltration is found.
EPDM vs TPO: good protection against heat and cold
Generally black – although it is also available in white – the EPDM membrane absorbs the sun's rays, unlike the TPO membrane which, thanks to its white colour, allows them to be reflected; it therefore does not absorb heat, which helps to reduce the effect of heat islands, especially in cities.
Installation of a TPO Membrane
The installation of a TPO membrane is done with a hot-air gun, without flame, which is safer than other systems such as an elastomeric membrane. The joints are welded with hot air, which eliminates any risk of fire.
In addition, one of the great advantages of using a TPO membrane on your flat roof is that it is fully recyclable at the end of its useful life, which is also the case for the EPDM membrane.
A waterproofing membrane for a green roof
If you are considering installing a green roof on your home, the TPO membrane (the EPDM as well) is an excellent option for a waterproofing membrane. It will protect your building from infiltration and can drain off excess water when the roof reaches saturation point.
If you want a green roof, but the roof membrane is elastomeric, consider replacing it with a TPO membrane when it reaches the end of its useful life, as it is less resistant to standing water.
EPDM vs TPO: costs
Although the EPDM membrane is more affordable than many other systems, the TPO membrane comes out on top when it comes to price. In fact, it is the cheapest membrane on the market, partly because it requires less glue, thus reducing costs and increasing its ecological appeal!
Conclusion
this EPDM vs TPO comparison shows that these two roofing materials have similar advantages, although the TPO membrane stands out due to its price and white colour.
If your flat roof has an EPDM membrane, you can extend its lifespan with regular maintenance, cleaning and inspection. But if you need to replace your roof covering, the TPO membrane will save you money and provide you with a durable, environmentally friendly and high-quality material!
Was this article helpful to you? Share it!
Leave us your email address and we will contact you as soon as possible to assess your needs!
Put an end to your water infiltration your clogged drains your roof problems
Leave us your email address and we will contact you as soon as possible to assess your needs!