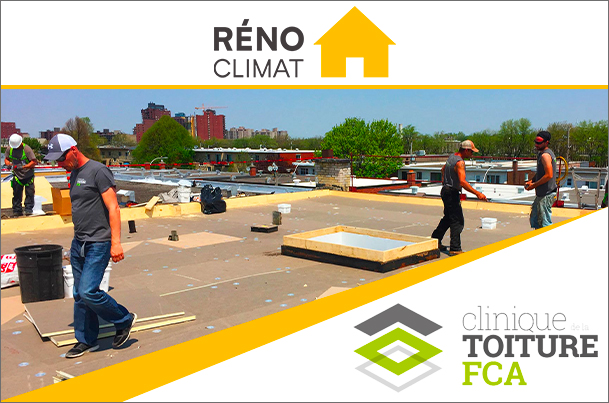 Find out what renovation grants you can take advantage of for re-roofing
It's no secret that undertaking the renovation a roof is a major budget item. Whether you do the work yourself or entrust it to a specialist, be prepared for a substantial bill.
But did you know that you could be entitled to a grant for the renovation of your roof?
There are various government grants available, and the amount of the grant varies depending on the work carried out.
Here are some of the roofing grants available in 2021, and their benefits.
What is the rénoclimat grant program?
The Rénoclimat grant is, as its name suggests, government assistance to promote residential renovations, including roofing and insulation work, in order to increase the energy efficiency of your home.
Financial assistance provided by rénoclimat
Depending on the work carried out, the Rénoclimat grant varies between $35 and $975; in addition, the Rénoclimat program allows access to the federal government's Canada Greener Homes Grant, which can offer up to $5,000 for insulation improvements.
Eligibility requirements
To qualify for this 2021 roofing grant, you must meet certain criteria:
You must be the owner (individual or business) of a building eligible for the grant,
Your building must be located in Quebec,
The building must be habitable year-round,
The building must have been built more than 12 months ago.
Dwellings eligible for the grant
different types of houses or buildings can receive this home insulation grant, depending on certain criteria. it should also be noted that it is possible to take advantage of the Rénoclimat program more than once for the same property.
Homes (for example, single-family, semi-detached, row or mobile as well as year-round cottages, etc.),
Duplex or triplex,
Multi-unit residential building with a maximum of 3 floors above ground and a footprint not exceeding 600 m2.
If your building meets all of these criteria, you are probably eligible for the Rénoclimat program; however, other conditions also apply, including:
Having an envelope that is in a suitable condition for the airtightness test,
Having at least 50% of the total area used for residential purposes,
Being built on permanent foundations,
Having drinking water supplied either by the municipality or a private source,
Etc.
Ask a Rénoclimat energy advisor for information on whether your home is eligible.
How the rénoclimat program works
Before you can receive a grant for your roof, you will need to apply for an energy evaluation of your home before undertaking any work, then once the renovations have been completed, ask for a post-work energy evaluation.
If the renovations have improved the energy efficiency of your building and all other conditions have been met, you can receive your grant by mail within 10 to 12 weeks of your application being accepted.
Eligible work for your roof
Different types of work are eligible for the roofing grant, subject to certain conditions.
For example, the insulation on your home's roof must be at least 20% of its total area to be eligible for the roofing grant, and the amount awarded will vary according to the difference between the R-value of the insulation before and after the work. The greater the difference, the greater the amount awarded. Other work is also eligible:
Improvements in air tightness (to avoid heat loss and cold air ingress),
Improvements to ventilation system(s),
Replacement of skylight(s) with ENERGY STAR certified models,
Etc.
A Rénoclimat certified advisor will explain to you in detail the eligibility conditions and the procedure to follow to benefit from this grant. Remember that any work done to increase the energy efficiency of your home is certainly a major expense, but it will allow you to save thousands of dollars over the next few years in terms of heating and cooling!
Was this article helpful to you? Share it!
Leave us your email address and we will contact you as soon as possible to assess your needs!
Put an end to your water infiltration your clogged drains your roof problems
Leave us your email address and we will contact you as soon as possible to assess your needs!