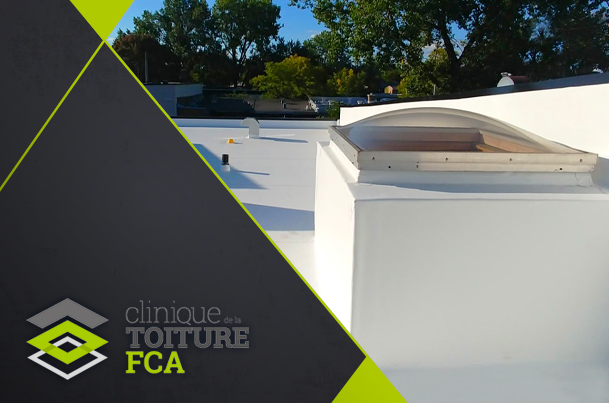 How to install a skylight on a flat roof?
We're not telling you anything new by saying that a roof window or skylight exponentially increases the luminosity of one or more rooms.
These structures are often visible on pitched roofs and can provide a luminous space for a mansard ceiling for example, but is it possible to install a window on a flat roof?
Of course it is! That's what we'll be talking about…
Windows on flat roof: a growing popularity in quebec!
Skylight windows for flat roof are gaining in popularity among homeowners because of their many advantages, starting with increased natural light in a room, not to mention the savings on your electricity bill… if the installation has been carried out correctly though!
In fact, a window on a flat roof must be perfectly watertight with the roof to prevent water ingress, especially at critical times (when snow melts, for example), as well as heat loss.
This is why it is strongly recommended that you call on experts to ensure that the installation is done according to the rules of the trade.
How many should be installed?
If your room is small, a single medium-sized roof window should suffice. In small and dark rooms, installing a skylight will immediately make a difference!
However, if your room is large, be sure to install a larger skylight (or several smaller ones…).
Indeed, if it is too small, it will not be aesthetically pleasing, and the opening may not bring as much light into such a large room!
Can it be installed at any time?
Although you can have a skylight window for flat roof installed at any time, it is always preferable to undertake its installation at the same time as you're reroofing.
Not only will you minimize installation costs, but you will also ensure maximum watertightness since everything will have been done simultaneously.
How to install a skylight on a flat roof?
It is important not to install a skylight window for flat roof where the roof is at its lowest point.
Indeed, by installing your skylight where your flat roof is the lowest, you risk water infiltration during heavy rain or snowmelt.
Furthermore, the Association des maîtres couvreurs du Québec (AMCQ) estimates that a skylight must extend a minimum of 300 mm beyond the roof surface, and the waterproofing membrane must be installed at the junction of the skylight frame and the roof surface.
In addition, it is important to insulate between the ceiling and the roof. The skylight must be perfectly watertight to prevent water infiltration, while allowing condensation to drain away.
Noise and ventilation
Of course, having a window on a flat roof means that when it rains, the noise will be louder. If this bothers you, you should know that VELUX, a skylight manufacturing company, has developed roof windows with glazing that reduces the sound of rainfall.
Do you want to be able to open your skylight?
Choose a top-hung or centre-pivot window. This consists of a hinged opening that allows you to get a window or an opening to access the roof.
How much does a flat roof window cost?
Obviously, prices vary greatly depending on the size of the skylight, its shape—flat or dome-shaped glass—and the materials used.
Prices range from $500 to $3,000, plus installation costs ($2,000 to $6,000).
As mentioned earlier, it is much more advantageous to install a skylight when redoing the roof, so that installation costs are kept to a minimum.
To learn more about flat roof windows and the costs associated with their installation, ask the specialists at Clinique de la toiture FCA for advice! We serve the areas of Laval, Montreal North, Montreal East and other neighbourhoods on the Montreal Island.
Was this article helpful to you? Share it!
Leave us your email address and we will contact you as soon as possible to assess your needs!
Put an end to your water infiltration your clogged drains your roof problems
Leave us your email address and we will contact you as soon as possible to assess your needs!