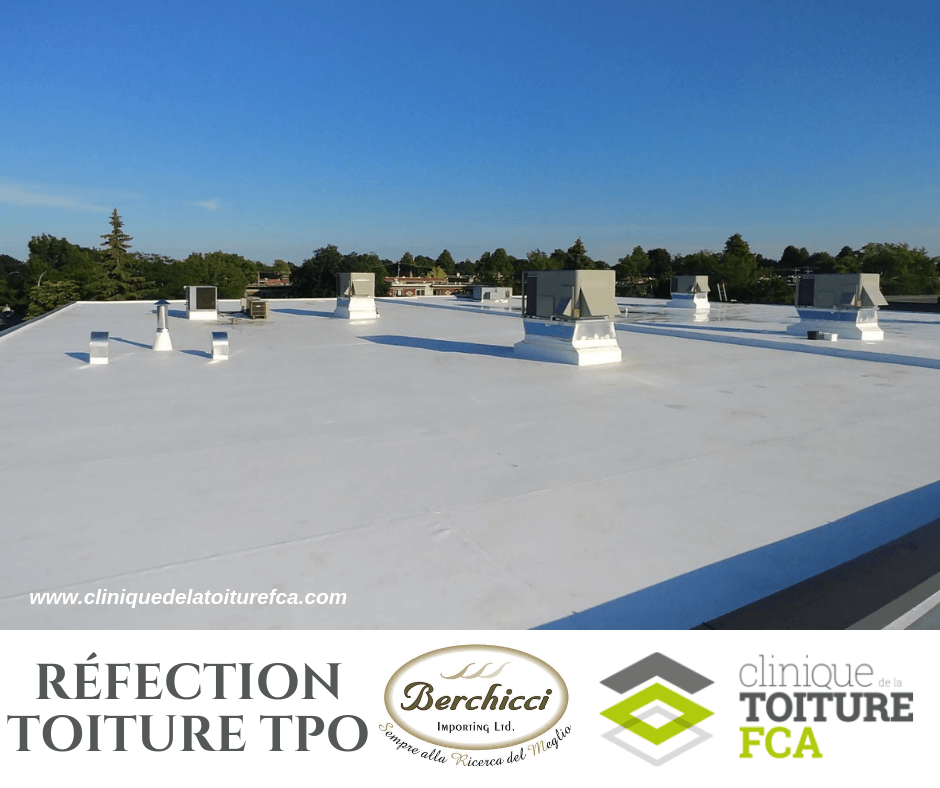 Installing a TPO membrane on your flat roof!
The replacement of a roof is a substantial investment, that is why this decision should not be taken lightly. Indeed, numerous factors, including the type of material, should be taken into consideration. If your residential or commercial building has a flat roof, the installation of a TPO membrane can be a smart choice; the roofers from Clinique de la toiture FCA, a roofing company in Montreal, are specialized in the installation and reroofing of TPO flat roofs. Ask for a free estimate today! We serve Anjou, St. Leonard, Montreal East and other neighbourhoods in Montreal.
Why install a tpo membrane?
A TPO membrane offers a great number of advantages! Indeed, its light weight reduces the pressure applied to the building's structure and makes it easier to install. On top of this, because it is white, the roof reflects the sunlight instead of absorbing it, which allows to reduce not only the heat island effect, but also the interior temperature of your building. Finally, the TPO membrane is completely recyclable at the end of its service life, which makes it a smart choice for residential, commercial and industrial roofs!
How do you install tpo covering?
The installation of a TPO membrane is quick and easy; the joints are welded with hot air and not with a torch, with prevents the fire hazards often associated to other types of coverings.
How do you maintain the membrane?
While highly resistant to UV rays, atmospheric pollutants, mold and high variations of temperature, it is important to regularly have your roof inspected by specialists in TPO membrane for flat roofs. Meanwhile, it's a good idea to regularly check the drains, gutters and downspouts, to prevent them from getting clogged and from not evacuating water properly, which could damage the membrane. Also check the joints and the overall condition of the membrane, to rapidly detect any tear.
Did you know that you could get a grant for the renovation of your roof? Find out more from our white roof specialists to know if you are eligible, by contacting us at Clinique de la toiture FCA!
Was this article helpful to you? Share it!
Leave us your email address and we will contact you as soon as possible to assess your needs!
Put an end to your water infiltration your clogged drains your roof problems
Leave us your email address and we will contact you as soon as possible to assess your needs!