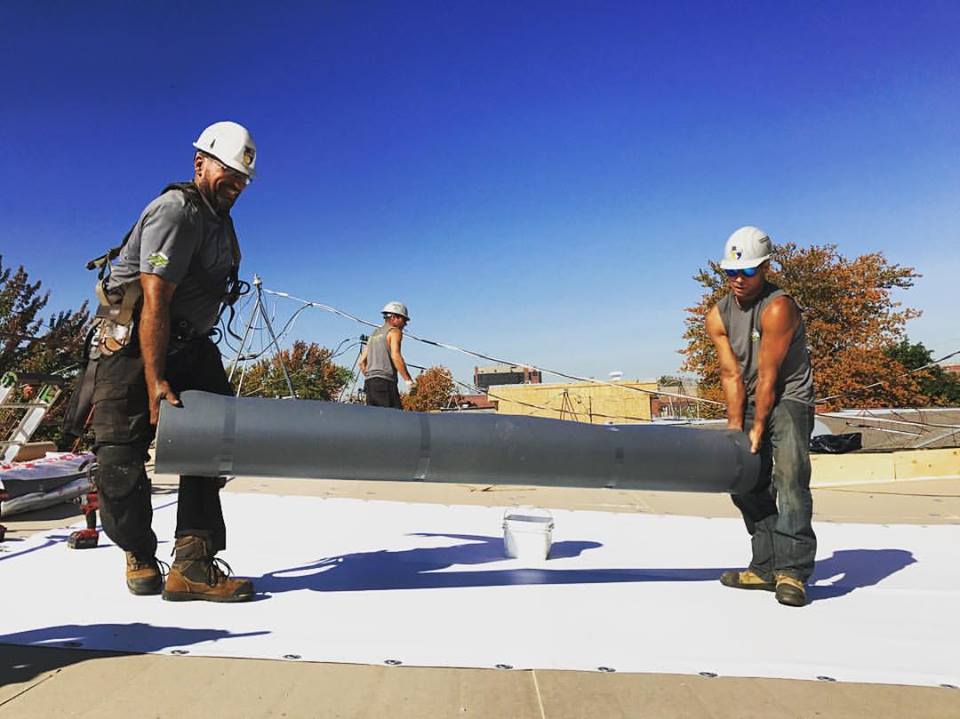 Flat Roof vs Pitched Roof: advantages and disadvantages
Are you wondering about the price of a roof renovation and the cost of the materials? Are you asking yourself if you should opt for a pitched roof or a flat roof? Each of these 2 types of roofing has its advantages and disadvantages, and the specialists from Clinique de la toiture FCA in Montreal will be able to give you advice on the type of roof to favor in your situation. Stop hesitating and ask advice from the best roofers in the Montreal area, close to Laval, to find out about the benefits of flat roofs and pitched roofs!
Flat roof
Sought after for its modern look and its capacity to be converted into a green roof system, a flat roof offers many advantages! By transforming your roof into a terrace or a garden, not only will you benefit from an eco-friendly residential roof, but you will also enjoy an additional living area, and you won't lose any space over a pitched roof. And if you opt for a TPO roof or an EPDM membrane for your commercial or industrial roof, you will help to reduce the heat island effect, since the membrane's white colour will reflect the heat of the sun. Your flat roof will also make it possible to install solar panels, which will be more efficient to capture energy on a flat surface, and you could even install a skylight to light the interior of your home or your building!
However, there are some drawbacks to consider. Indeed, a flat roof doesn't allow for as effective a water evacuation as a pitched roof would; some leaking issues could also occur. The inspection and maintenance of your roof thus becomes a necessity, and undertaking the required renovations on time will allow you to obtain a more than attractive return on investment, otherwise, the value of your building could be reduced! Besides, some municipalities are not fond of the idea of issuing licences for flat roofs; ask about it!
Pitched roof
Many homes in Quebec feature pitched roofs, because of how they facilitate snow removal and rainwater evacuation. In addition, they allow for an additional living space into the attic, thus giving them warmth and character. Various materials are available—cedar shingles, aluminum, sheet metal, slate, etc., as well as a wide selection of colours, therefore letting you personalize your home to your taste and according to your budget. Pitched roofs also require less maintenance than flat roofs, but it does not mean this step should be neglected!
Indeed, pitched roofs are more likely to sustain damages in case of high winds. And although they allow for the creation of a room in the attic, the latter will have a sloping ceiling, which doesn't please everyone, especially those who like more modern styles for their home. Finally, renovating a pitched roof will cost more money than a flat roof, depending on the type of material.
To find out more about our roofing company, our products and services or about the various costs related to re-roofing or roof construction, contact us today!
Was this article helpful to you? Share it!
Leave us your email address and we will contact you as soon as possible to assess your needs!
Put an end to your water infiltration your clogged drains your roof problems
Leave us your email address and we will contact you as soon as possible to assess your needs!