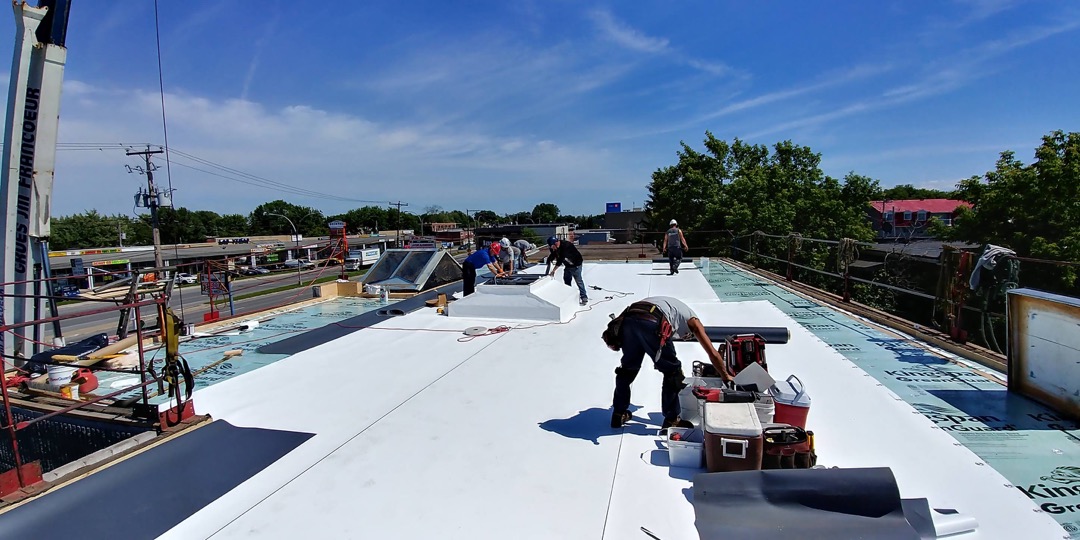 6 essential points to choose the right roofing specialist!
Choosing a roofer for a residential, commercial or industrial roofing repair in Quebec and even in the Montreal area can be difficult given the large number of companies in this field. That's why it's important to shop around and choose the roofing company that best meets your needs.
To choose a roofing specialist, there are several matters to verify before selecting a company:
Ask for more than just one cost estimate.
By contacting a few repair or roofing contractors, you will be able to compare different cost estimates and choose the one that suits you best in terms of expenditure and work done.
Method of payment
Important rule to remember: NEVER ACCEPT TO PAY THE TOTAL AMOUNT BEFORE THE WORK BEGINS! See if you can pay during the inspection done at the end of the work, or pay an amount after various stages of the project.
Ask for references.
A good roofer will never be reluctant to give you references from past or current customers. If not, beware!
Pick a specialist instead of a generalist.
You want to have an ecological residential roof or a green roof? Call on specialists in the field and not the first-comer. That way you will avoid unpleasant surprises!
Verify the authenticity and the validity of the permit.
Make sure that the license of the Régie du bâtiment du Québec (RBQ) is valid, not only now, but that it will still be valid at the end of the work. You will also find a register of complaints on the RBQ website. Check if your contractor's name comes up there often or not!
The materials used.
Depending on the type of work to be done, you should inquire about the materials used by the roofing specialist: EPDM membrane, TPO roofing, sheet metal, etc.
Whether you want a conventional flat roof or a green roof, make an appointment today with Clinique de la toiture FCA in Montreal!
From construction to renovation, roofing and green roof maintenance, you will enjoy a significant return-on-investment (ROI) by entrusting your project to the best flat roof specialists in Montreal! Ask for your free estimate and we will give you a quote that explains in detail the cost of the different materials as well as the total price of your project. Contact us as of today to learn more!
Was this article helpful to you? Share it!
Leave us your email address and we will contact you as soon as possible to assess your needs!
Put an end to your water infiltration your clogged drains your roof problems
Leave us your email address and we will contact you as soon as possible to assess your needs!