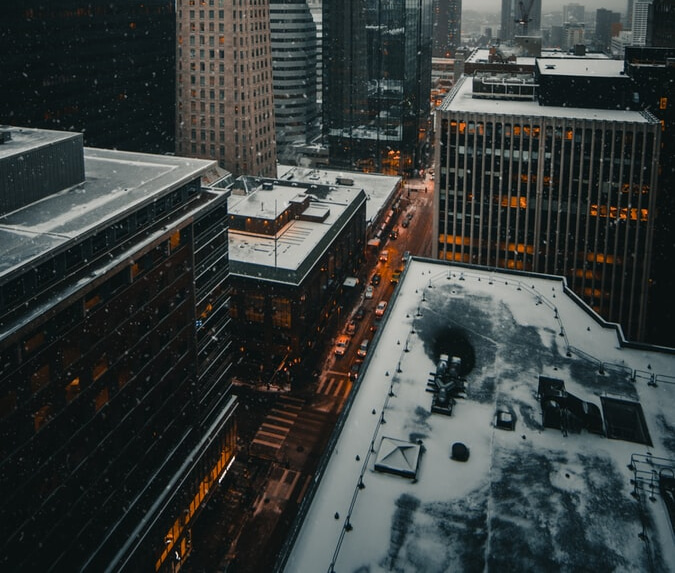 Rooftop snow removal: Yes, but how?
Rooftop snow removal is an important task to undertake on a regular basis. Yet, if removing snow from a flat roof might seem simple, some precautions do apply. And this is why it is always preferable to call upon experts in flat roof snow removal, who will know how to quickly and efficiently clear snow from residential or commercial roofs.
Most roofing business in Montreal, Montreal East, Anjou, St-Leonard and elsewhere outside of Montreal offer a snow removal service; because of the particularities of flat roofs, it's better to call upon specialists!
How do you remove snow from a flat roof?
You have probably already looked at—or helped with—slanted rooftop snow removal, either with a rope or with a shovel, by climbing on the roof; but how do you remove snow from a flat roof? If the answer seems to be obvious in itself, there still are some aspects and some safety standards to follow and this, whether you are doing it yourself or you are hiring roof snow removal professionals.
Set a 2-metter buffer area all around the roof.
This area, which will be off limits to the snow removers, is in some way a safety net, to avoid workers from getting too close to the edge, where they could fall.
Establish a dumping zone and prevent access to this area.
Once you have found where to dump the snow—make sure it is an area where pedestrians do not walk!—you must install a safety guard on the roof; then, the snow removers will be able to let the snow fall from the roof, without risk of falling themselves.
Use the right tools.
To remove snow from a flat roof, we can use what is called a snow rake—also named sleigh shovel—or, when possible, a snowblower. However, you must be very careful not to damage the waterproofing membrane, and that's why the use of metal shovels is not recommended.
What could happen if the snow on my roof is not removed?
Excessive accumulation of snow on your roof can have serious repercussions not only on the latter, but also on the structure of the building. Indeed, if the weight of the snow on a flat roof is too substantial, it could partially or completely collapse, not only leading to significant damage, but also likely to harm people.
In addition, the structure of the building itself could be damaged if snow is not removed regularly. Tears can appear, a water infiltration could occur… It is important to watch out for these early signs of a bigger issue and to act quickly before it is too late!
By calling upon expert flat roofers, they will know when and how to proceed to remove snow from a flat roof in complete safety!
Was this article helpful to you? Share it!
Leave us your email address and we will contact you as soon as possible to assess your needs!
Put an end to your water infiltration your clogged drains your roof problems
Leave us your email address and we will contact you as soon as possible to assess your needs!