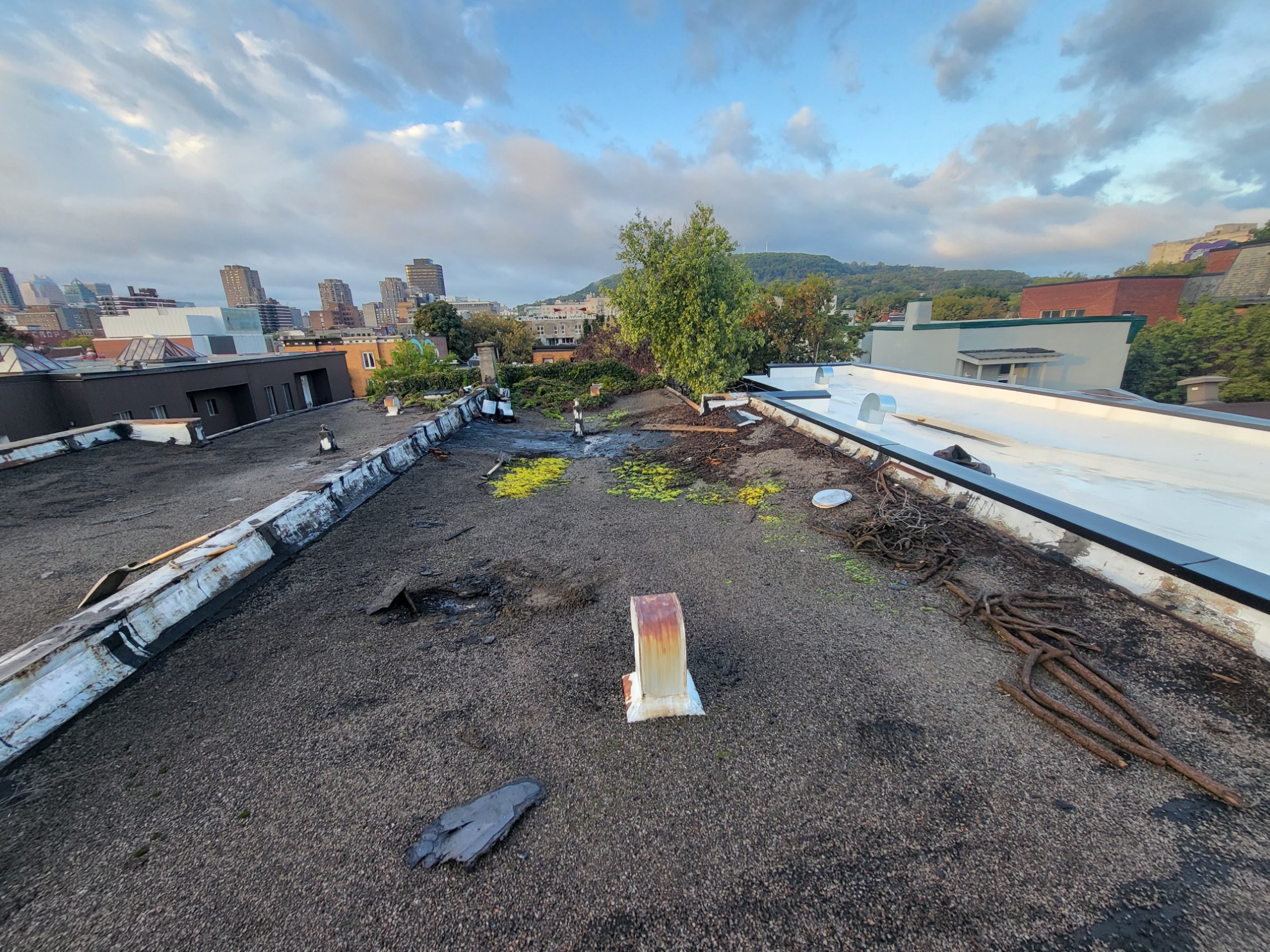 When is it time to redo your roof?: Our recommendations
Your roof is part of the construction elements of your home that are most exposed to severe weather. Even if it has a long lifespan, when certain problems appear, it might mean the time has come to redo your roof. How do you know if this is necessary?
La Clinique de la toiture FCA answers all of your questions and tells you about the pros and cons of repairs, and the related costs.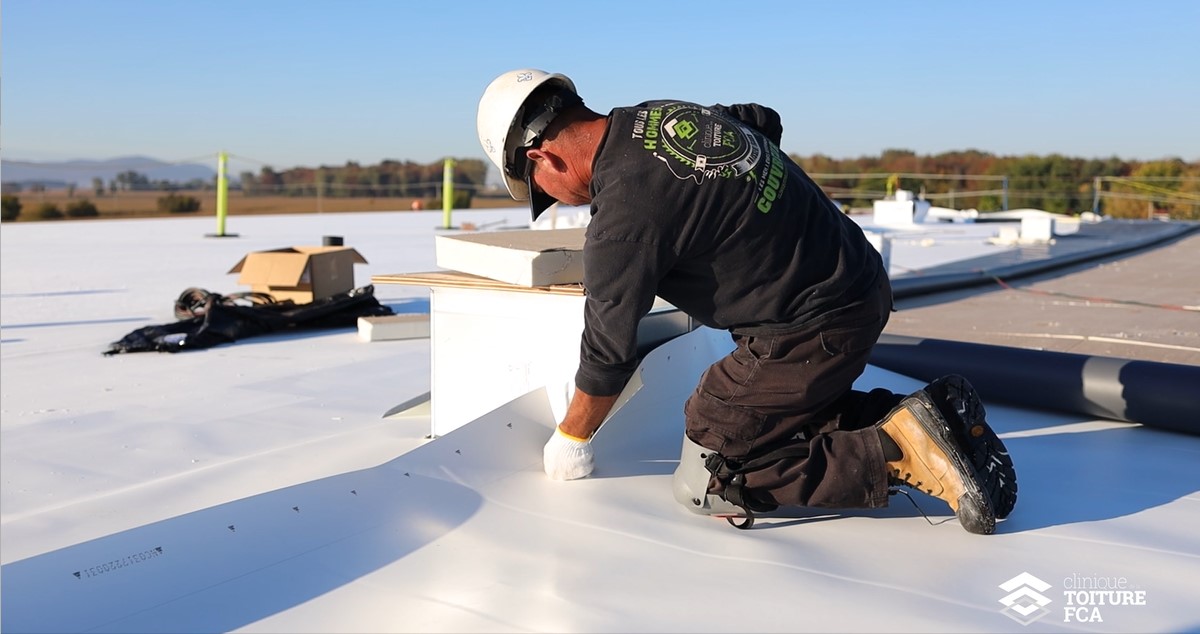 How do you know when the time has come for you to redo your roof?
Firstly, you should know that a roof lasts generally between 15 and 25 years. When it is properly maintained, it can last up to 30 years and even more. Given that it is exposed to Mother Nature's whims and fancies, time will have an impact over your roof and it will have to be redone, sooner or later, whether it is because it is old or because it has been poorly maintained throughout the years.
If your roof is older than 15 years, we recommend having it inspected thoroughly by a professional, in order to ensure that it is still in good condition. Even if you don't personally notice any apparent problem, there might still be minor problems you are unaware of. Sometimes, it is sufficient to address these with repairs so that you can prolong your roof's lifespan and avoid having to redo it completely.
More important problems, however, might require having your roof redone completely. Water infiltration and signs of humidity or mold in the insulation are signs that cannot be overlooked! During your bi-annual inspections, you should pay close attention to:
Humidity stains
Water streaks and infiltration
Brown stains on your ceiling
Traces of water on the ground
Moss, algea or mushrooms on your roof
Take the time to inspect your roof, but also pay attention to what is happening in your home. Holes or fissures in your roof will cause water infiltration which can make its way to your ceiling and your home interior. This can be a sign of important structural problems and several different types of repairs might need to be done.
When the insulation shows signs of mold or humidity, it is also a sign that your roof might be damaged. In this case, ventilation or insulation problems are often the cause.
If your roof is getting old or if you see things out of the ordinary, you should quickly contact a roofing company or professional, who will be able to detect the root cause of the problem and let you know what needs to be done, like if your roof needs to be redone completely, for example, or if repairs are sufficient.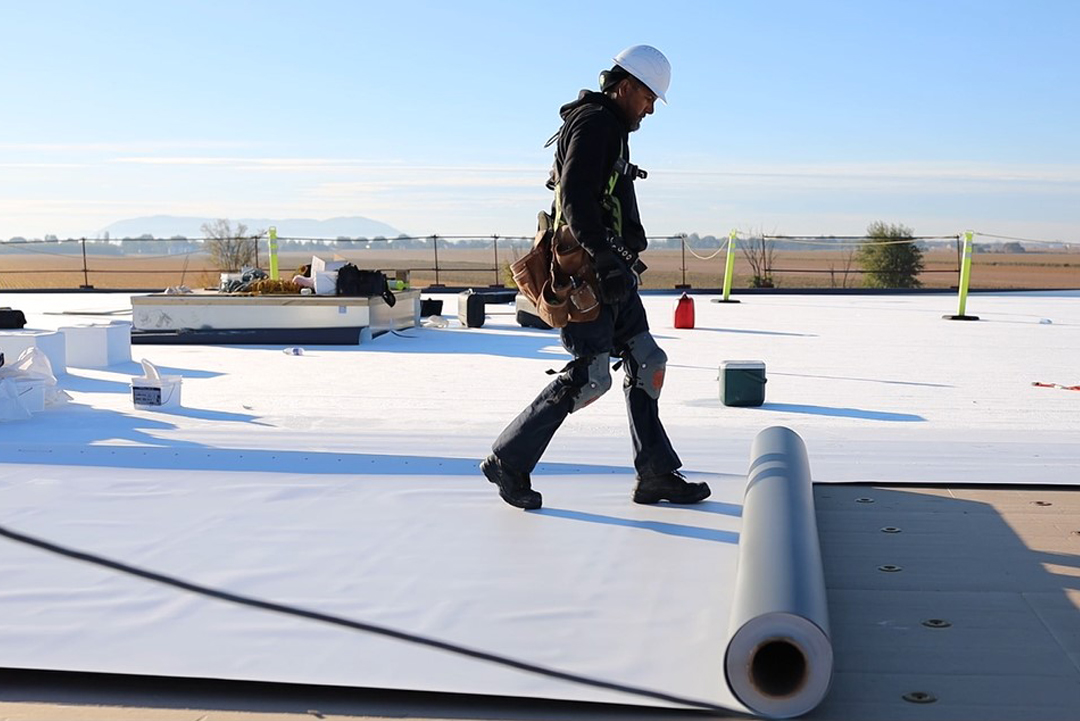 When should you have your roof redone?
If you know that your roof is getting older but you keep putting off having to redo it, you are probably wondering when it is truly necessary to redo it completely. Our recommendation is: if there is a problem, it is better to act on it right away.
In fact, a roof that is in a bad state is no longer protecting you. Furthermore, it can also cause safety and health hazards for you, your family, or whoever is living in the building. An expert can tell you if the problems need to be remedied quickly, or if it is okay to wait.
Many owners wonder which season is best to have your roof redone. Firstly, you should know that you can have your roof redone any time of year, but each season comes with its own set of pros and cons.
Summer is often the preferred season due to the extended hours of sunlight and warm temperatures, which helps the roofing stick more easily. However, extreme heat can be a safety hazard for roofers and in some cases, work might be delayed or prolonged.
Spring and autumn are two excellent times for getting work done on your roof. Temperatures are generally warm or at least comfortable, and humidity levels are lower than in the summer.
Finally, you might need to have repairs done in the winter. It is now possible to do so, but you might have to plan for an extra budget for snow removal on your roof (unless you choose to do it yourself), and adequate surface and material preparations.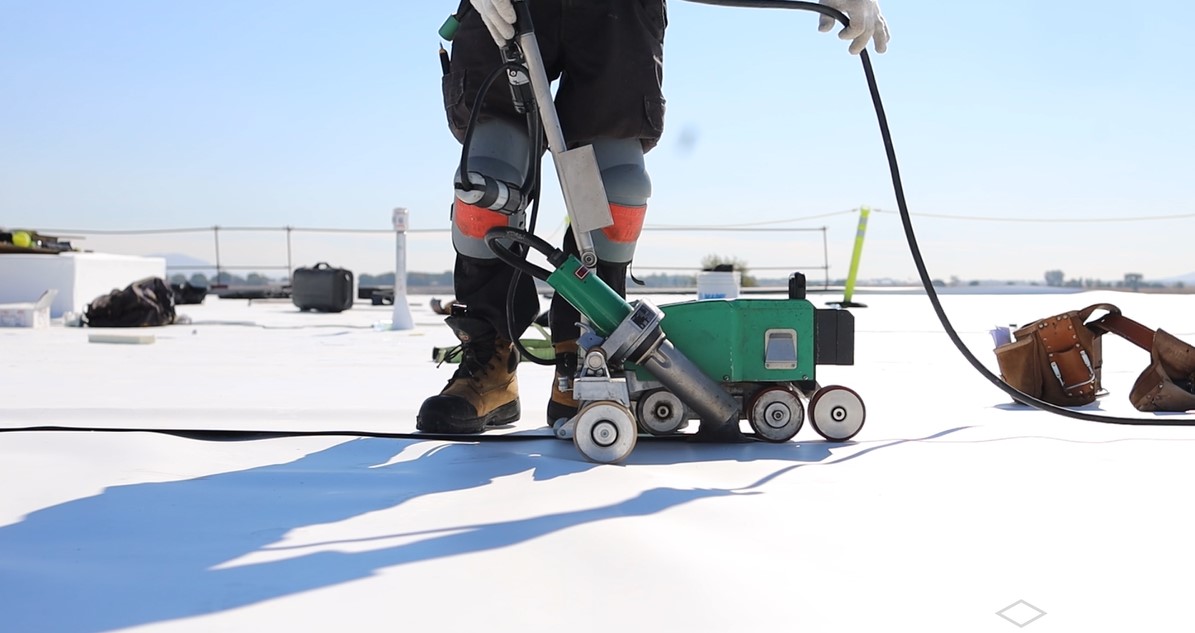 The advantages of having your roof redone
If you are hesitating between repairing or redoing your roof, the second option comes with a long list of advantages.
Firstly, repairs and renovations sometimes have to be repeated throughout the years and could end up costing more in the long term than what it would cost to have your roof redone. If you keep up with regular inspections and maintenance, you will have peace of mind for years to come by having your roof redone.
As we have mentioned, it is also a question of safety. Damages to your roof can have a domino effect and affect several of your roof and building's components. Water infiltration can damage the structure quickly, and can even cause it to collapse! Mold in your roof can also contaminate the air in your home and cause negative repercussions on the inhabitant's health and wellbeing.
A new roof with a good insulation system will also have a significant advantage over your home's energy efficiency. You will be avoiding heat loss in the winter and maintain a cool space in the summer. On top of your comfort, this will also allow you to save money on heating and air-conditioning.
Moreover, the membranes that are used today to cover flat roofs often offer an even greater advantage when it comes to energy efficiency. Replacing an old asphalt and gravel roof with a white roof, with a TPO membrane for example, will contribute to improving your energy efficiency, among other things.
Finally a recent roof also comes with the advantage of adding significantly to your resale value. Potential buyers are not only attracted by an esthetically pleasing new roof, but also the fact that they won't have to worry about it for several years. This is a significant advantage when the time comes for you to sell your home or building!
Redoing your roof does come with several advantages for your safety and budget in the medium to long term.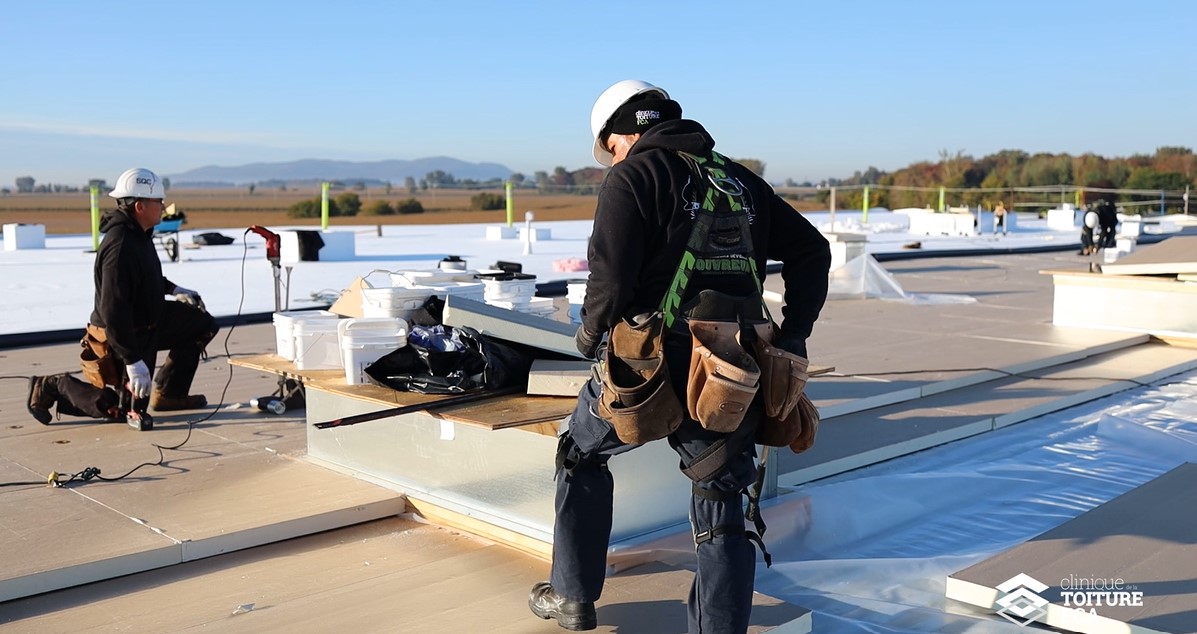 The disadvantages of redoing your roof
Are there disadvantages to redoing your roof? The financial aspect is generally the first element that has homeowners hesitating. In fact, it does represent a significant investment.
However, you should know that there are some incentives that can take some of the financial pressure away, like Renoclimat and RenoRegion, and other municipal incentives. You will also be admissible to a tax refund.
Another disadvantage that some might bring up would be to plan the necessary time to have your roof redone. If this is the case for you, no need to worry. Qualified contractors can take that weight off your shoulders by taking charge of all the different steps that need to be done to redo your roof.
As for the time needed, a team of 6 roofers covers between 1,000 and 3,500 square feet per day, depending on the complexity of the project.
Don't forget that redoing your roof completely might be more expensive in the short term, but a better investment in the medium or long term!
How much does redoing your roof cost?
Do you know that your roof must be redone but are still hesitating between that and repairs? The cost for a roof is sometimes what tips the scale. But how much does it cost exactly?
As you might guess, it varies greatly according to your roof: costs can vary from $ 5,000 to $ 35,000. The main factors that influence costs are:
The roof size
The materials used (the type of membrane, for example)
The different components that need to be replaced
Roof accessories
The complexity of the installation
Where you live
Obviously, a larger roof will not only require more materials, but also more time. You will also have to consider the costs of the materials; the membrane has a significant impact on the amount.
The installation or replacement of some of the accessories will also influence costs. Think of drains, plumbing vents, access traps or even skylights! Moreover, the more complex the roof shape, the more demanding the job for the roofers.
Furthermore, sometimes extra costs have to be considered for remote areas. As for the city, the cost for a road occupancy permit could also be added to the bill.
As you can see, each situation is unique! Professionals at La Clinique de la toiture FCA could explain the quote in detail to you, so that you fully understand each single fee on the bill.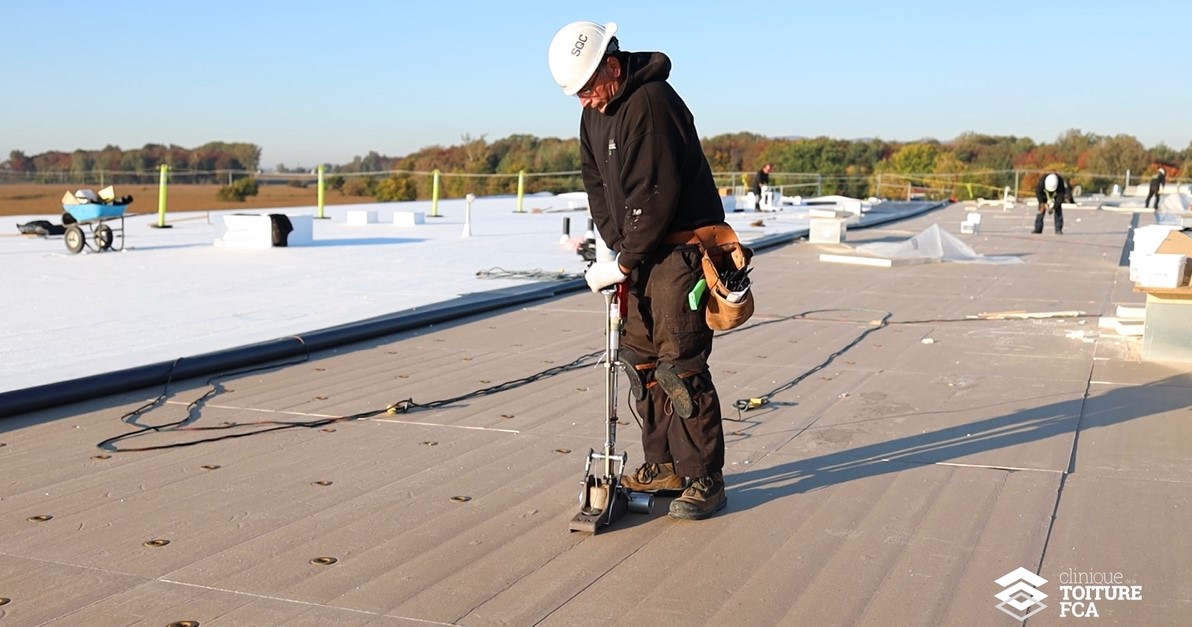 La Clinique de la toiture FCA is here to help in your roof repairs
Would you like to have your flat roof inspected and proceed to repairs? Our team will give you a detailed analysis of your roof and provide you with the best recommendations for roof repairs, renovations or having your roof redone completely.
Throughout the years, our team has truly stood out and become a reference in the industry, especially when it comes to service. Trust in our team of experienced professionals for quality results. Contact us today for a quote!
Was this article helpful to you? Share it!
Leave us your email address and we will contact you as soon as possible to assess your needs!
Put an end to your water infiltration your clogged drains your roof problems
Leave us your email address and we will contact you as soon as possible to assess your needs!