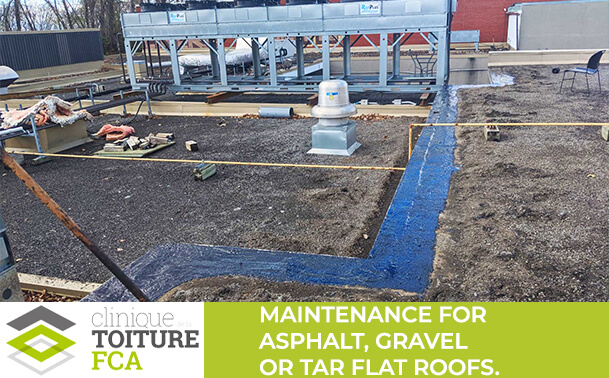 Maintenance for asphalt, gravel or tar flat roofs.
If you have a flat gravel roof, you probably know that it requires regular maintenance. Nevertheless, it is important to know what elements must be checked and what must be done when anomalies are found. At Clinique de la toiture FCA, we are offering our expert advice as to how to do maintenance on your flat gravel and tar roof.
How to properly inspect a flat gravel roof?
It is important to know that all flat roofs must be inspected at least twice a year. We recommend you do it in the spring and in the fall, just before the beginning of winter. You should also inspect it after meteorological events such as violent storms or ice storms, so as to make sure all elements are still in good condition.
First and foremost, gravel should be properly spread out, since it plays an essential role in the protection of all tar and asphalt layers underneath. If roofing felt becomes apparent, this means that roofing is not protected from weather conditions and UV rays. Gravel must be brushed back into an even layer.
The roof surface must always be regular; be mindful of the presence of folds. Even if minor folds can be covered, major folds mean that the roofing must be redone. Similarly, minor blistering can be protected, while erupted blistering must be repaired and sealed.
It is important to look for sagging or sinking, as it can be a sign that there is a bigger problem. Sagging can lead to water infiltration, damages to the roof structure and even, ultimately, to collapsing. This is why it is essential to act fast!
Drains are key elements of flat gravel roofs, as they ensure that there is no accumulation of water. When you are doing your inspections, make sure that drains are not clogged. Moreover, be proactive: remove all debris from the surface, preventing them from ending up in the drains. If you notice water accumulation, there might be a problem with your drains.
Finally, inspecting the joints will help you prevent future water infiltration, which can lead to major damages. All elements such as aerators, flashings or plumbing vents can all be entry points for water infiltration, which is why it is essential to inspect them for cracks or fissures and seal them right away!
The last layer found under the gravel is called the "waterproofing layer", which is a layer of asphalt encrusted with crushed stones. This layer protects roofing against degradation due to weather conditions. If it is lightly damaged, it may be mended with a fibrous, tar or asphalt liquid coating.
This coating can also be used for fissured joints, flashings or any other damaged surface. It is also important to verify that all components are properly sealed since water infiltration can easily use any of these as an entry point.
Flat roof maintenance with tar allows to remedy to minor damages and ensure optimal waterproofing on a damaged surface without having to proceed to major repairs.
Price for maintenance on a flat gravel roof
For many reasons, you may prefer dealing with a professional when it comes to the inspection and maintenance of your flat gravel roof. They know and understand all roofing components and are experienced in maintenance, which is why it is usually done quickly and at a low cost.
The price for a full inspection, which includes maintenance and cleaning, can vary greatly depending on roof size and the number of accessories on it.
It is best to ask for a free quote so that you can get a real idea of the cost of maintenance for your own roof.
Moreover, allowing a professional to do a biannual maintenance of your roof can help you save a lot of money on future problems and repairs in the long run!
Our roof maintenance service: Gold treatment
Many people neglect maintenance on a flat gravel roof due to lack of time or motivation, or simply because they are afraid of heights. However, this generally means that damages accumulate and roof durability decreases. Regular maintenance will be much less costly in the long run.
That is why at Clinique de la toiture FCA, our team of professionals can take care of that for you. Roofing experts know all roof components intimately and will easily recognize what can be done in order to leave your roofing and roof structure in its optimal state.
They will also do all necessary maintenance and cleaning, like flat roof maintenance with tar (or rather asphalt). A good and proper maintenance of your roof will prevent future damage and repairs. Let a professional take care of it and you won't have to lift a finger!
The Gold treatment is a complete professional treatment that guaranties peace of mind. With 25 years' experience, the Clinique de la toiture FCA has become a master of multi-layered roofing as well as any other type of roofing.
Maintenance on a flat roof ensures its durability. This is why you should put its care in the hands of professionals like us, who offer this service at a competitive price.
Cet article vous a été utile? Partagez-le!
Leave us your email address and we will contact you as soon as possible to assess your needs!
Put an end to your water infiltration your clogged drains your roof problems
Leave us your email address and we will contact you as soon as possible to assess your needs!