Clogged flat roof drain: what to do?
Flat roofs are very practical and give a certain cachet to your property: they can be used as a terrace or regulate the temperature of your building by reflecting the sun's rays and reducing heat islands, which makes them very interesting for cities such as Montreal and Laval. But this type of roof also requires regular maintenance—and not just in terms of snow removal—to avoid considerable damage. Among these are problems with clogged flat roof drains, which are among the most frequent problems and the most damaging not only to your roof, but also to your building! Flat roofing specialists, such as those at Clinique de la toiture FCA, can regularly inspect your roof to ensure that the flat roof drain is not clogged.
How does a drain get clogged?
A clogged drain on a flat roof can be caused by a build-up of debris such as leaves and branches, which over time can clog the drain and prevent water from draining normally. That's why it's important not to let a clogged drain on a flat roof become a problem, as the consequences could be unfortunate.
What damage can a clogged drain cause?
Whether on a residential or commercial roof, a blocked drain on a flat roof can cause water infiltration not only on the roof, but also everywhere in the walls of the building! Indeed, since these drains are designed to let water flow out and not accumulate, water infiltration can occur at the joints in the walls, from the basement to the attic. And if this happens, there is of course the risk of structural damage, not to mention the risk of mould growth.
Preventing a clogged drain
By cleaning the flat roof drain yourself or by calling a roofing company in Montreal at least every spring and every fall, you will reduce the risk of water infiltration due to a blocked drain and this, whether it is a TPO flat roof or an EPDM roof, among others. In addition, you will avoid having to replace your roof and thus having to spend thousands of dollars! Even new constructions are not immune to clogged drains, so be careful!Contact Clinique de la toiture FCA, close to Montreal North and Montreal East, for all your roofing needs; we even have a 24/7 emergency service!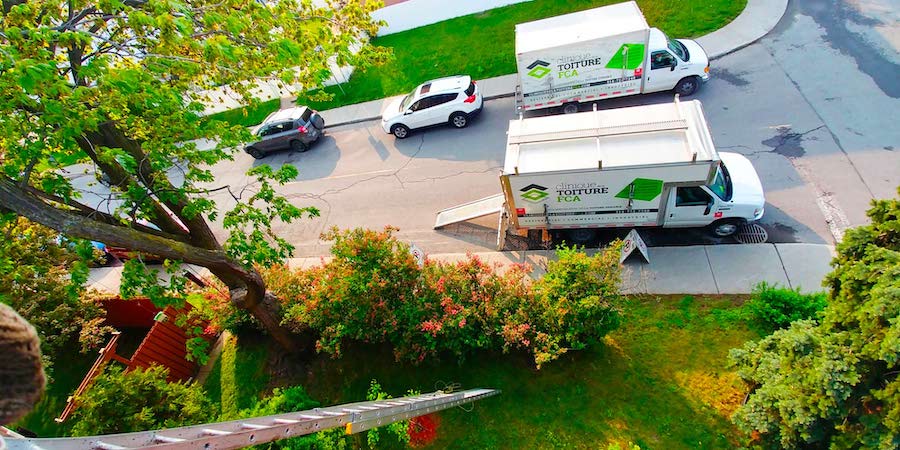 Was this article helpful to you? Share it!
Leave us your email address and we will contact you as soon as possible to assess your needs!
Put an end to your water infiltration your clogged drains your roof problems
Leave us your email address and we will contact you as soon as possible to assess your needs!