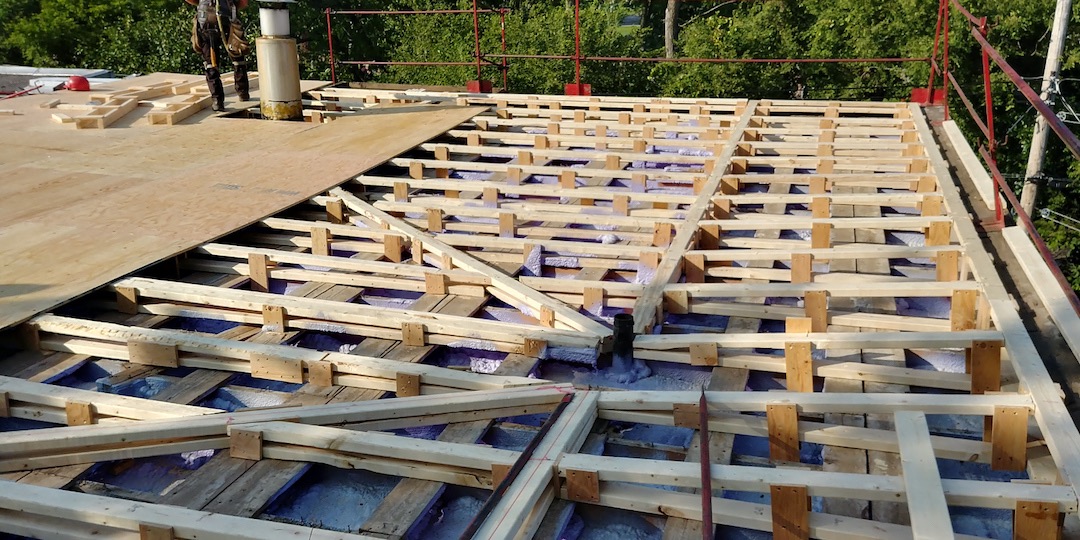 Correcting the slope of a flat roof to prevent water accumulation
Does your building have a flat roof and do you have water accumulation problems? Maybe you need to correct the slope of your roof. In fact, there is a minimal required slope to allow for water to flow toward the roof drains and prevent stagnant water from pooling on your roof. When you choose to have our specialist roofers repair your roof, you'll have not only a higher roof, allowing for better drainage, but you might also qualify for a one of Quebec's subsidies for roof renovations. Find out more from Clinique de la toiture FCA! Our roofing business is located in Montreal, near Laval.
Stagnant water pooling on your flat roof? Watch out for water seepage!
Manufacturers now require that all newly built roofs be free of stagnant water; that means that 48 hours after it rains, there should never be pools of water on the roof. If you notice any, you might have a hard time getting them to honour the warranty. Stagnant water on your roof is serious business; it can increase the risk of seepage and will also add load to your building's structure during periods of thaw and freeze. It is possible to reverse the situation with a slight correction to roof's slope by raising the roof deck or by applying tapered roof insulation. This product is manufactured in a warehouse and is made of polystyrene or isocyanurate, from 1 to 2% depending on the requirements, and it will create positive drainage, therefore reducing the risk of water accumulation.
The roofing specialists at Clinique de la toiture FCA can go ahead and replace or repair your roof and they will even complete emergency repairs. If you have water accumulation or seepage, they will carefully inspect your roof to uncover any future problems and will give you a detailed estimate for any necessary corrective work. Whether or not you need them to raise the roof deck, improve the ventilation or even re-roof the whole thing, you can count on our team to complete the work to your satisfaction.
Don't wait any longer and contact the best roofers in Quebec today at Clinique de la toiture FCA in Montreal, near Laval!
Was this article helpful to you? Share it!
Leave us your email address and we will contact you as soon as possible to assess your needs!
Put an end to your water infiltration your clogged drains your roof problems
Leave us your email address and we will contact you as soon as possible to assess your needs!