How to clean your gutters; step by step
Every drainage system requires maintenance in order to function properly. If you have gutters, cleaning them regularly is a must! La Clinique de la toiture FCA explains why this is a crucial step and gives you some advice.
Why is cleaning your gutters so important?
Cleaning your gutters can seem like a fastidious task; but failing to do so can cause undesired consequences and damages that not only have to do with the gutters themselves, but that can also affect your walls and even the inside of your house!
The first advantage of cleaning your gutters is to prevent blockages. When gutters are obstructed, they no longer work properly, causing water to accumulate instead of draining it.
These accumulations can then flow onto the building structure. Since water couldn't make its way down the gutters and away from the house, it will find its way closer to your house, which also means closer to your foundations.
This means that you are not only at risk of having stagnant water on your property, but also water infiltration in your structure. No need to explain that this is definitely not something you'd want!
The accumulated debris in your gutters can have even more consequences. The gutters themselves can begin to sag; when this happens, they can no longer work properly. You can even see cracks and leaks appear.
It is important not to wait for problems to appear before cleaning out your gutters. Ideally, you should have your gutters cleaned once or twice a year. If you live in a wooded area, you should clean your gutters even more often given the added presence of branches and leaves. b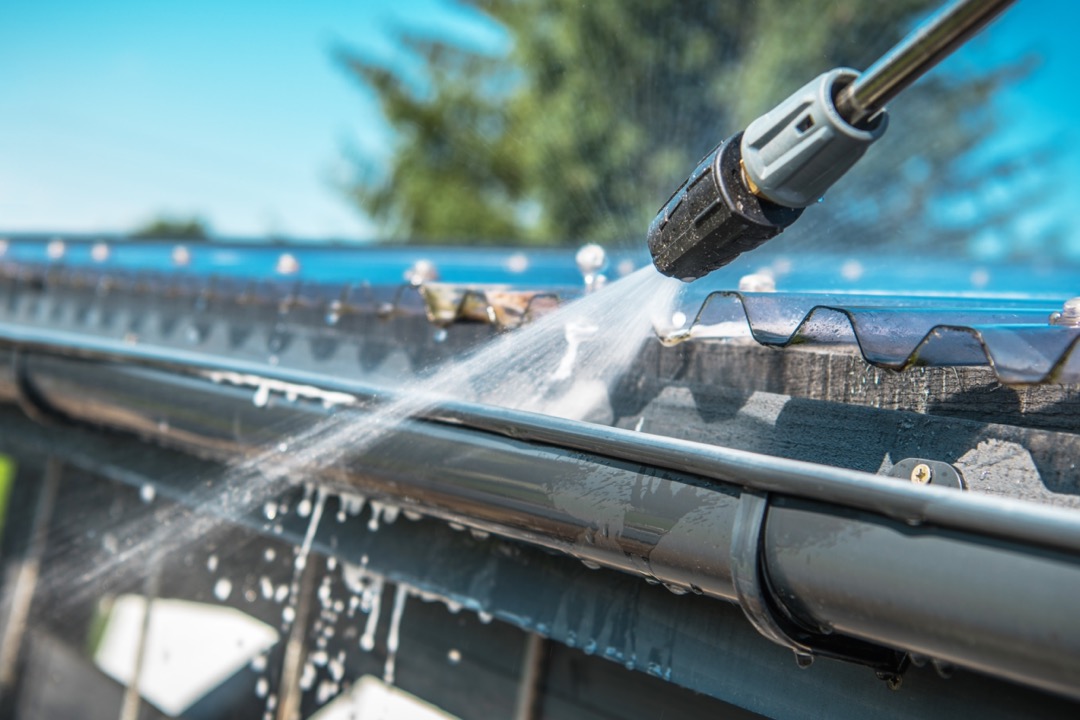 The benefits of cleaning your gutters
As we have mentioned above, gutter maintenance is essential in the prevention of damages. By cleaning your gutters regularly, you will add to their life span, but you will also be protecting your roof, walls and foundations.
Cleaning your gutters provides you with several advantages, including protection from the ravages caused by water infiltration. By avoiding stagnant water on your property, it will –obviously- also be much more harmonious. This is an advantage that should not be overlooked!
Regular maintenance is also a great investment, since you will be preserving your gutters. This means you will avoid repairs, and even replacements.
You can choose to clean your gutters yourself, or hire a team of professionals. The price for gutter cleaning varies mainly according to your house or building size. In general, it will cost you anywhere between $ 100 and $ 300.
Step 1: The tools you'll need to clean your gutters
If you are planning on cleaning out your gutters yourself, what type of cleaning supplies or equipment will you need? You will need a few tools and materials, although nothing too complicated.
Firstly, you should know that you can proceed to the actual cleaning from the ground or by climbing to the height of the gutters. You should take note that the second option is the most efficient, given that you will be able to remove all debris!
In this case, you will obviously need a ladder and a ladder stabilizer. Depending on the height of your roof, a safety harness could also be necessary.
Then, you can use a regular garden hose to clean out your gutters and wash out any residue. Ideally, you should use a high pressure cleaner, which will make the job both quicker and easier!
There are other tools you might want to use, like a gutter shovel that is specially designed to eliminate debris inside the gutters. If you want to limit expenses, you can always use a garden trowel. It will allow you to remove:
Leaves
Pine needles
Nuts and grains
Insects
After having eliminated these debris, a cloth or hand brush will allow you to remove whatever is left in terms of debris and mud, which can clog the gutters.
A water and dust vacuum would definitely be a great help! Moreover, it can come in handy if you choose to work from the ground. All you have to do is use a tip that you can fix onto the hose, which then hooks onto the gutters. You can choose to do the same with your garden hose or your pressure washer.
Step 2: How can you fix leaks and other damages to your gutters?
So, the damage is done: your gutters have already been damaged and/or are leaking. What can you do?
When damages are not too severe, you can use a leak-proof acrylic putty, which will help you seal the holes and cracks, also assisting in preserving your gutters. It easily sticks to most materials used to make gutters (metals, aluminum, PVC, etc.).
Usually when gutters being to sag, it is due to loosened hooks and screws. Joints can also be damaged or become less watertight. In this case, you can simply replace the damaged pieces.
Obviously, if your gutters have undergone severe damages, you might want to consider replacing them. Don't forget that it is always less expensive to replace gutters than to repair your roof or foundations.
Step 3: How can you prevent regular blockages?
Do you notice regular debris accumulation and clogged gutters? Maybe you'd like not to have to clean them out so often? Opting for preventive measures can be of great help.
In fact, there are a few very simple ways you can avoid regular clogging! The first method is by placing gutter guards. These are actually screens that are simply screwed in, on top of the gutters. The screens prevent leaves and other debris from entering the gutters.
They will obviously not block all debris or small insects, but they will allow you to clean out your gutters significantly less often!
You can also install a downpipe filter. This is mostly used to avoid any blockages or clogs in the downpipe, which is often harder to clean. It also makes the actual gutter cleaning much easier, and prevents small animals from getting trapped in the downpipe.
You should also take note that an insufficient angle in the downpipe can create blockages. Sometimes the best way to avoid regular gutter blockages is to simply replace or reinstall supports!
Do you need your gutters cleaned in Quebec? The Clinique de la toiture FCA offers gutter cleaning for flat roofs, and any other maintenance needs you might have. Take a look at our maintenance plans today and save big!
Was this article helpful to you? Share it!
Leave us your email address and we will contact you as soon as possible to assess your needs!
Put an end to your water infiltration your clogged drains your roof problems
Leave us your email address and we will contact you as soon as possible to assess your needs!