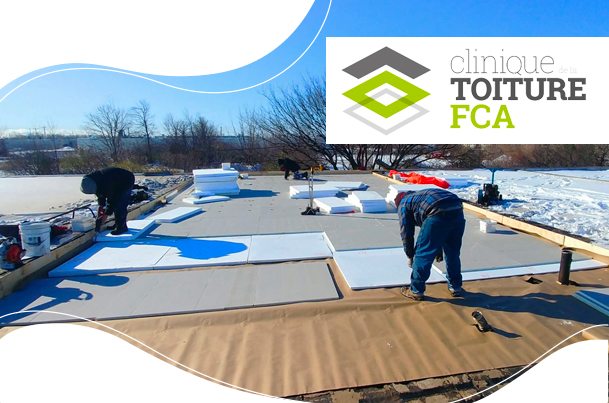 How to insulate a flat roof from the outside in Quebec?
The insulation of a roof, whether flat or pitched, is crucial on many levels: not only does it keep the house cool in summer and warm in winter, but it also extends the life of a house, for example by preventing condensation issues and/or water infiltration.
Condensation issues can look like infiltration. Some buildings were built during a period when technical changes did not all evolve at the same pace, which caused some problems. It should be noted that when an attic is poorly ventilated or poorly insulated, moisture accumulates in the insulation and interferes with its insulating properties. Moisture freezes during very cold weather and thaws like in those old freezers we used to have, giving the impression that the roof is leaking.
In addition, if the insulation is deficient, the building structure itself can be damaged and costly work may be required, not to mention the health risks if mold develops as a result of water infiltration.
Specialists will be able to give you an accurate picture of the quality of your insulation and the cost of any work that may be required.
Insulating a flat roof
External roof insulation, and more specifically the insulation of a flat roof from the exterior—also known as 'warm flat roof' because the insulation is on the outside—is quite simple to achieve.
However, certain steps must be followed, and several factors must be taken into account: the structure of the building—wood or concrete—the thickness of insulation required, the type of material used, etc.
How do you insulate a flat roof from the outside?
Here are the steps to insulate an unvented flat roof that is insulated on the deck after tearing off the roof sheathing:
Strip the existing roof down to the wood deck and dispose of it. 
Inspect and repair the deck, if necessary. 
Provide and install a vapor barrier. 
Provide and install slope insulation rows if the roof has a bad slope. 
Install rigid insulation, either polystyrene or polyisocyanurate. 
For flat roofs with a ventilated attic, we must at least remove a good part of the wood deck in order to allow the insulation of blown wool or sprayed urethane, here are the steps in this case:
Strip the existing roof down to the wood deck and dispose of it. 
Remove the boards from the entire wood deck. 
Clean the attic and prepare for insulation. 
Lay 2 rows of 2x4s crossed on the entire deck with a slope of 1 to 2% towards the drain.

 

If there is not enough air space or no air space at all, we raise the deck to create an air space and take this opportunity to optimize the slope towards the drain(s).

Install new 5/8" plywood over the entire area.
Selecting and installing insulation
Various materials are available, depending on your roof and your budget. You can opt for panel insulation, or even cellulose and urethane. The latter option is the most affordable and probably the easiest to apply.
If you have opted for insulation boards, you will need to install them along the length of the roof, cutting them out if necessary. Most of these panels have been designed to interlock with each other, making them easy to install.
If you opt for cellulose, you can inject it over the attic joists, and to ensure maximum watertightness, you can seal it with urethane.
How much does it cost to insulate a flat roof from the outside?
The cost of insulating a flat roof from the exterior can vary greatly depending on the materials, the surface to be insulated and the techniques used.
Nevertheless, this cost will be offset through substantial savings on your energy bill—poor insulation can result in thermal losses of up to 30%.
In addition, you may be eligible for various government credits for renovations that improve the energy performance of your home.
How do you insulate a rooftop terrace?
The insulation methods for a terrace roof are no different from those for a conventional flat roof. However, you will have to make sure that the structure is strong enough to support your furniture or your vegetable garden, should you wish to install a green roof.
Can i insulate my roof myself?
If you are familiar with this field, nothing prevents you from insulating your roof yourself. However, make sure you do this work according to the rules of the trade, because the slightest flaw in the insulation or waterproofing could have disastrous consequences.
If you have doubts about how to insulate a flat roof from the outside or if you need a roof insulation specialist in the Montreal area, trust the experts at Clinique de la toiture FCA.
They will know how to carry out the insulation of your flat roof, no matter what materials you wish to use. Whether you live in Montreal East, Montreal North, Laval or elsewhere in the Montreal area, you can contact us right now!
Was this article helpful to you? Share it!
Leave us your email address and we will contact you as soon as possible to assess your needs!
Put an end to your water infiltration your clogged drains your roof problems
Leave us your email address and we will contact you as soon as possible to assess your needs!