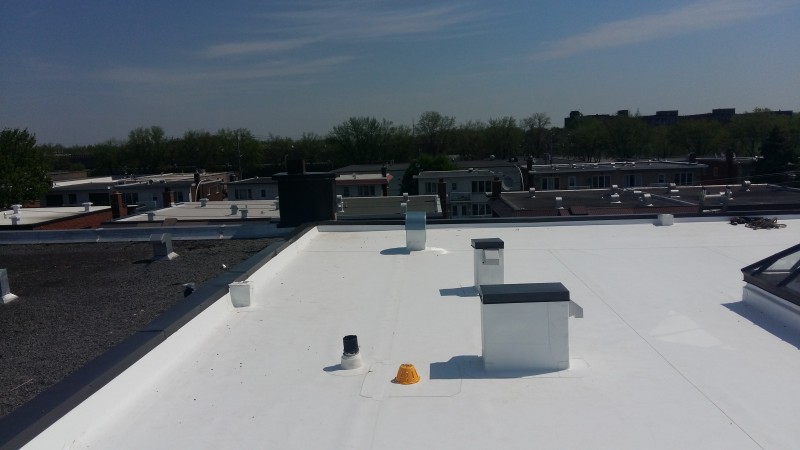 The lifespan of a flat roof and advices from our roofing experts in Montreal!
The lifespan of a flat roof depends on the type of material used for the re-roofing. Most people want a durable material at the best possible price. If you have a flat rooftop, you have everything to gain by opting for very durable materials that also provide a multitude of benefits. The specialists at Clinique de la Toiture FCA in Montreal are here to help you see more clearly and understand the pros and cons of each material. Trust the best roofers in the Montreal area!
These membranes have a service life of 20 years—or even more—and require little maintenance. They provide exceptional resistance to fire, bacteria and mold, as well as various air pollutants. Material of choice for re-roofing and new roofs, they also provide great resistance to UV rays and can withstand considerable temperature variations. Like the TPO membrane, EPDM has a lifespan of 20 years or more, and these 2 materials are 100% recyclable at the end of their service life.
This material has a service life of between 20 to 25 years and can even last more than 30 years if it is regularly maintained (a minimum of twice per year). You must also ensure that your roof is properly ventilated.
With poor maintenance, a multilayer asphalt membrane will have to be replaced after 15 to 20 years. However, if you properly take care of it, it could last from 25 to 30 years. The most important is to ensure that the gravel stays in place to avoid damages caused by the sun. It is also essential to repair cracks in the membrane without delay, to prevent water infiltrations.
As well as being pretty, these roofing systems help to regulate the roof temperature, to improve sound absorption and to protect the membrane. Of course, these roofs will last for many years!
No matter what type of covering you will choose, a rigorous maintenance of your roof and prompt repair of all tears are primordial to not only avoid having to replace the whole roof, but also to prevent damage to the structure as well as water infiltration. When it is time to search for a reliable and professional roofing business, trust Clinique de la toiture FCA in Montreal near Villeray and Anjou! We also serve the St-Leonard, Rosemont and Plateau Mont-Royal sectors, among others.
Was this article helpful to you? Share it!
Leave us your email address and we will contact you as soon as possible to assess your needs!
Put an end to your water infiltration your clogged drains your roof problems
Leave us your email address and we will contact you as soon as possible to assess your needs!