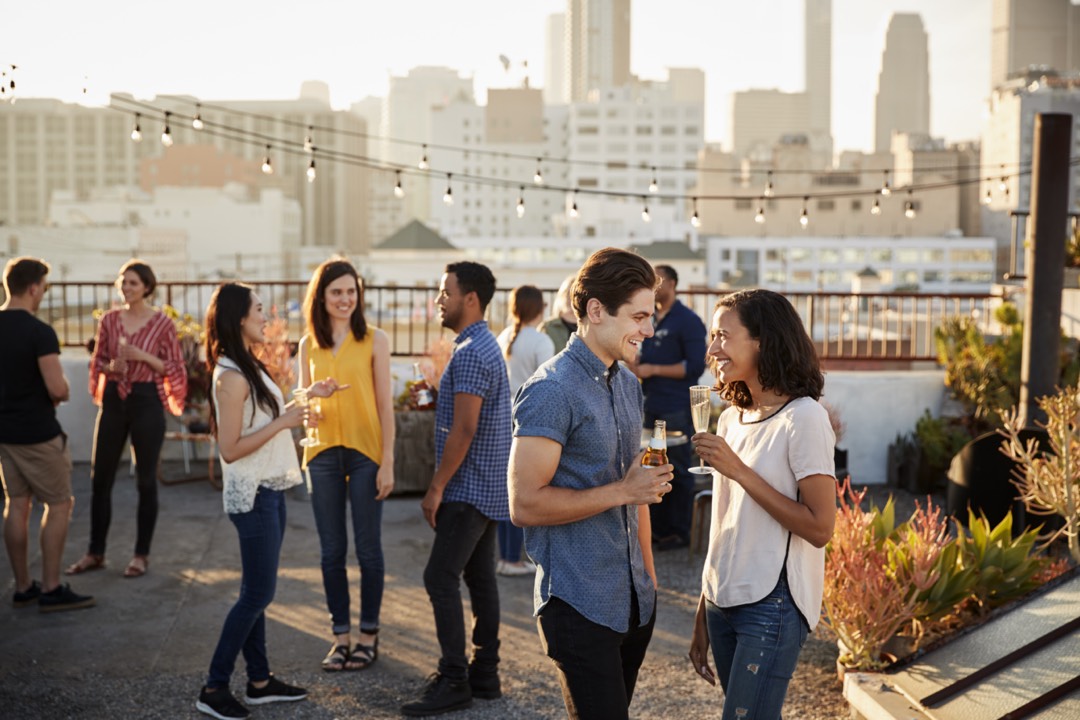 Restaurants and bars on a rooftop terrace: 10 hot spots in Montreal
In Montreal, the warm weather also means enjoying a dinner or a drink on a beautiful terrace… although the nice weather never lasts long enough! Even more interesting than a traditional terrace, many superb restaurants also offer a rooftop terrace to take full advantage of the warm season.
At Clinique de la Toiture FCA, we specialize in flat roofs, which is why we have thought of compiling a list of the best rooftop terraces on flat roofs in Montreal, so that you can really fully enjoy your summer.
Discover a selection of the most spectacular rooftop terraces in Montreal, for food and drink as well as a beautiful view of the city.
Les Enfants Terribles
If you are looking for an outstanding view of the city, Les Enfants Terribles is a must-see in the downtown area, and one of the most beautiful rooftops in Montreal. Located on the roof of the Place Ville-Marie, the restaurant is on the 44th floor of the building and offers a 360 degree view of the city.
If you prefer eating indoors, you will be just as impressed: the glass walls will allow you to take advantage of the view while protecting you from the wind. A bistro style cuisine awaits you with delicious steak and fries, tartars and AAA beef burgers (or Beyond Meat) and revisited classic cocktails are also on the menu! A brunch and lunch menu are also offered.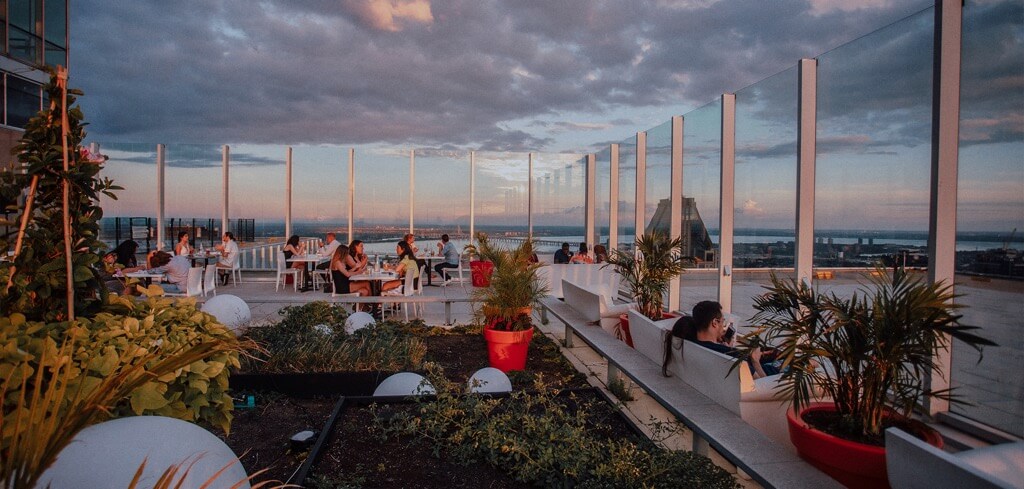 Foodlab
The Foodlab has a creative menu that focuses on farm-to-table cuisine. The terrace is on the third floor of the Society for Arts and Technology, close to the Saint-Laurent metro station.
On top of local produce, this restaurant also has a green roof! The team grows and harvests fresh fruits and vegetables that are then used to create delicious dishes. As you might suspect, the menu changes according to season and which foods are most abundant.
Drinks are also inspired from local flavours and include creative signature cocktails, but also offer responsible selections and mocktails that are just as original.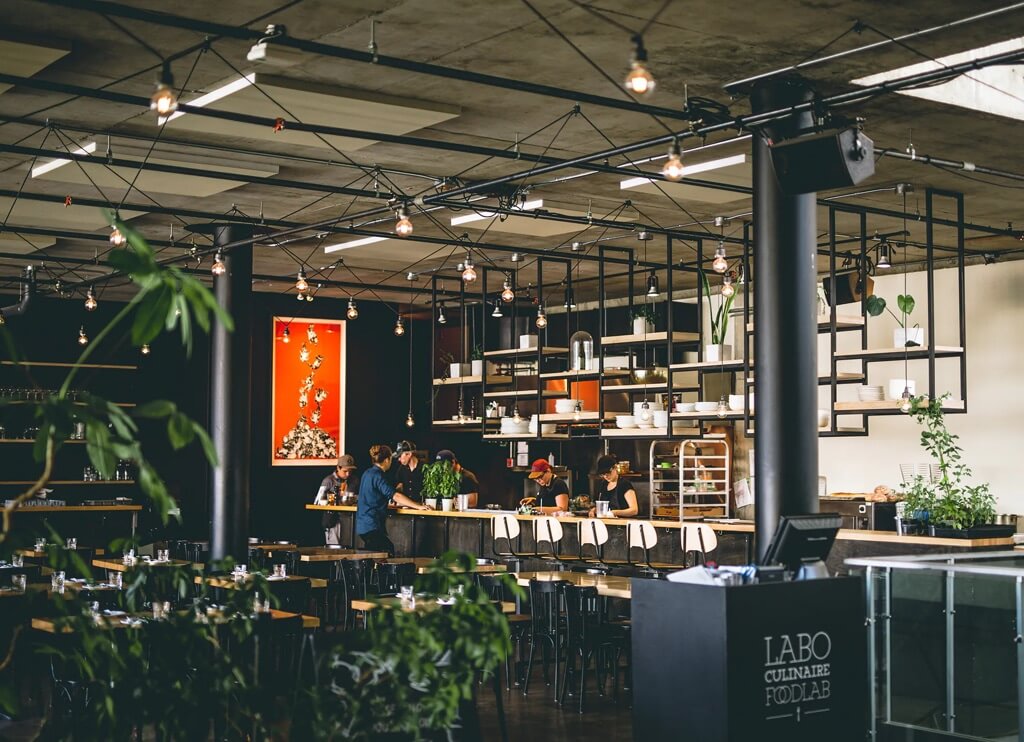 AIR Rooftop Renaissance
You will find the Air Rooftop terrace on the roof of the Renaissance hotel, on the 11th floor of the building. This rooftop restaurant is divided into two parts: a part with a roof and an exterior bar, and an open part on a higher level.
A few steps away from the Eaton Center, this terrace offers a nice view of the downtown area and buildings, welcoming you in a festive ambiance. They serve beers from microbreweries, wines and signature cocktails –like the "Treetop Punch" or the "Rooftop Mule"- as well as bistro style cuisine like tartars, sandwiches and small appetizers.
Auberge du Vieux-Port
After spending a wonderful day in the historical part of Montreal, make your way to Commune street and get a drink on the Auberge du Vieux-Port terrace. The Auberge Terrace is accessible from the 5th floor of the Auberge du Vieux-Port and offers a spectacular view of the area, including a stunning view of the Saint-Lawrence River.
Another advantage: this Montreal rooftop terrace allows you to watch fireworks comfortably! The cuisine is also festive, with ribs, burgers and tacos, as well as a wide cocktail, wine and sangria selection.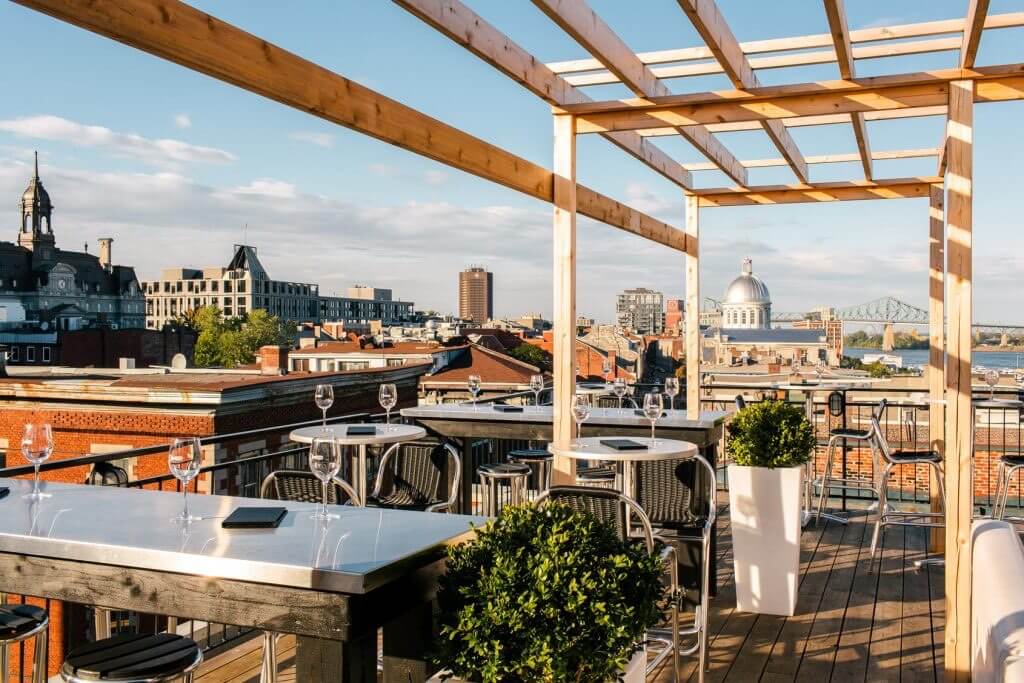 Terrasse Nelligan
Discover another wonderful place to start or finish your day in the Old Port with this rooftop terrace located on the roof of the Nelligan Hotel. It is right off Saint-Paul Street, a few steps away from the Notre-Dame Basilica, and you will enjoy a view on the surrounding architecture.
Even when temperatures are cooler, you will enjoy a comfortable and heated space with retractable awnings. On top of a nice cocktail and wine selection, the restaurant also gives you the opportunity to start your week on the right foot with the Monday Spritz special!
Terrasse William Gray
For a panoramic view of the Place Jacques-Cartier, the Saint-Lawrence River and the Old Port, you can also opt to wine and dine on the rooftop terrace located on the 8th floor of the William Gray Hotel. It is also heated for your comfort during cooler summer nights, and welcomes you in a chic and urban decor with delicious food and drink. 
From gravlax to aged beef sirloin, or delicious mushroom cavatelli, not only are the meals delicious, but there is something for everyone. Let's not forget special evenings like Soirée Rosée on Mondays, or Firework evenings as well, offering interesting prices on drinks.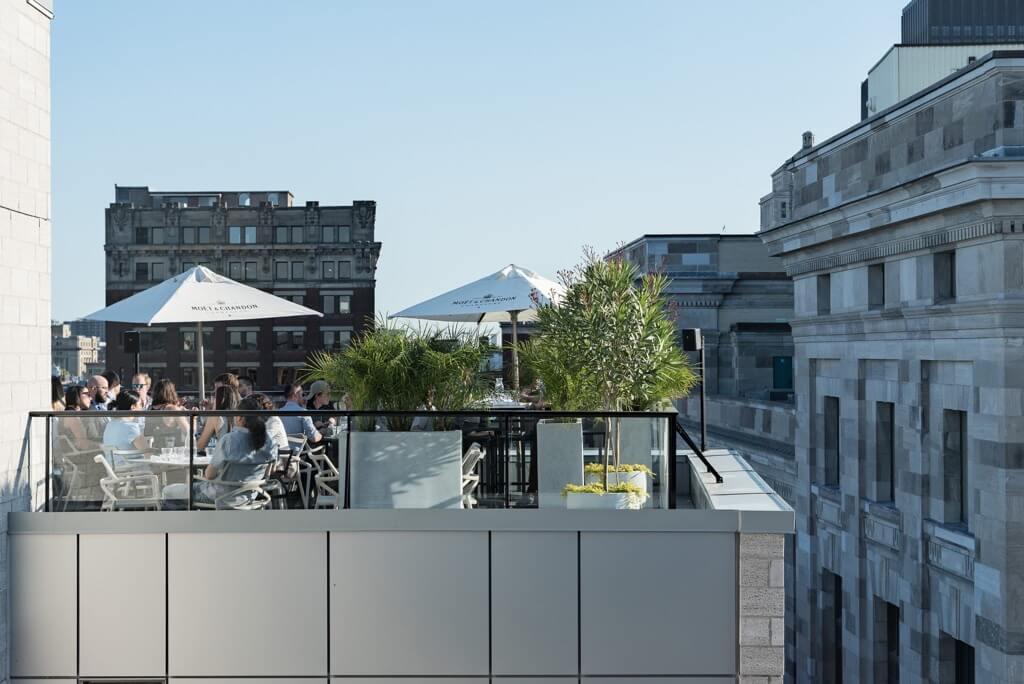 Bivouac
The Bivouac opened its doors in 2021 and offers excellent meals with a view on the Quartier des Spectacles. The experience is inspired by local foods named after different regions of Quebec, where the main ingredients are taken. Filet mignon, poultry, elk, rainbow trout and many other delicious produce are all carefully prepared for you by the chef, Xavier Dahan!
Classic cocktails as well as signature drinks are part of the menu and are truly delicious. Enjoy the Au Bord du Lac cocktail, inspired by local flavours, or revisit the flavours from your youth with the Orange Crush or the Pêche Fuzzy cocktails.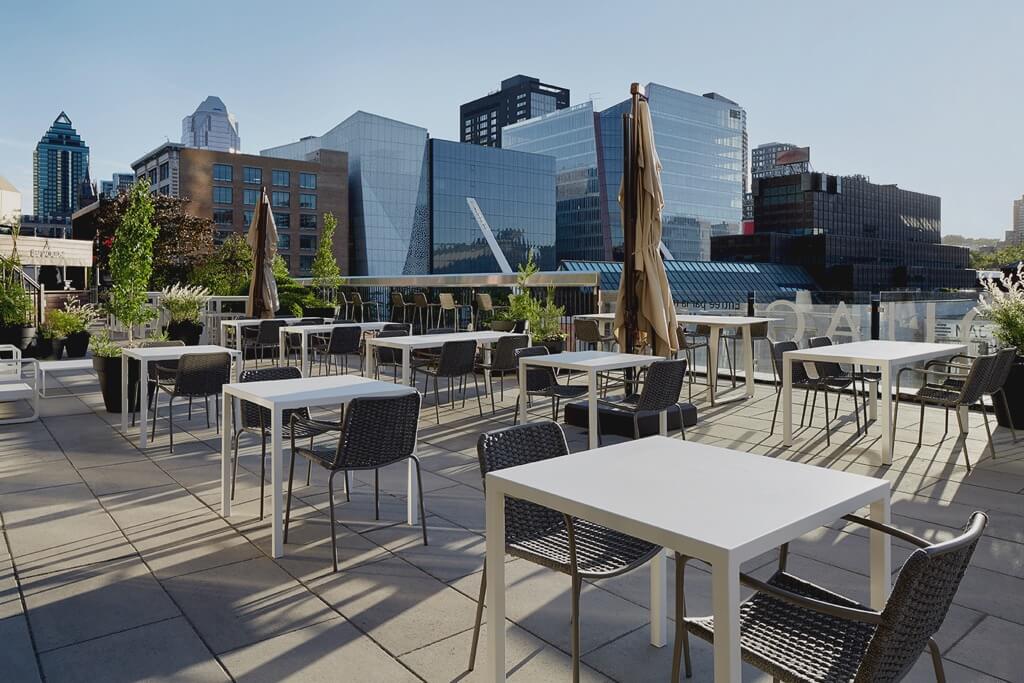 Nacarat Terrace
If you are looking for a good time or the perfect spot to meet up with friends on a downtown rooftop terrace, the Nacarat Terrace, located on the 3rd floor of The Fairmont The Queen Elizabeth, is the perfect dream spot. Very welcoming, with its plants and lounge chairs, it offers a sophisticated and refined ambiance.
This Montreal rooftop bar offers a great selection of bottles and a refreshing cocktail menu. You can also enjoy appetizers or meals cooked on the grill to take advantage of summer flavors.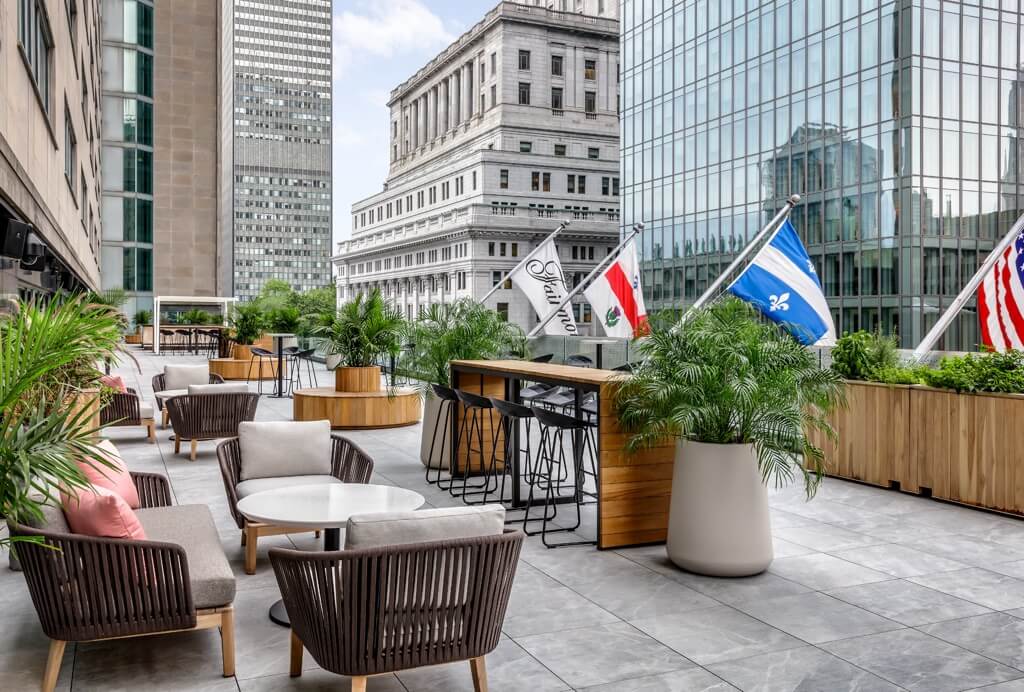 Taverne Atlantic
A little further from downtown Montreal and the Old Port, there is another superb area: the Mile Ex. This is where the Taverne Atlantic opened its doors at the end of the summer in 2019.
The rooftop terrace welcomes you in a warm design lit by beautiful lanterns, complete with a barbecue and even a petanque area! This is certainly one of the most beautiful rooftop terraces in Montreal. People go mostly to enjoy drinks, like a refreshing Slush Sangria or Margarita, or the wide selection of wines and beer.
You can also enjoy snack-bar style foods like pizza, poutines and even meat-free hotdogs.
Le Perché
The Perché is also located in the William Gray Hotel. It is another rooftop restaurant offering a unique experience from the 4th floor of the building. The decor is lush, green and exotic, and meals are fresh and delicious.
Surrounded by palm trees and with a delicious healthy menu mostly made-up of fish-based dishes (mahi mahi, poke bowls, tartars, fish tacos…), it will make you feel like you're in California! Refreshing cocktails are also on the menu for your great enjoyment. The Perché brings the feel of the beach into the very heart of the downtown area.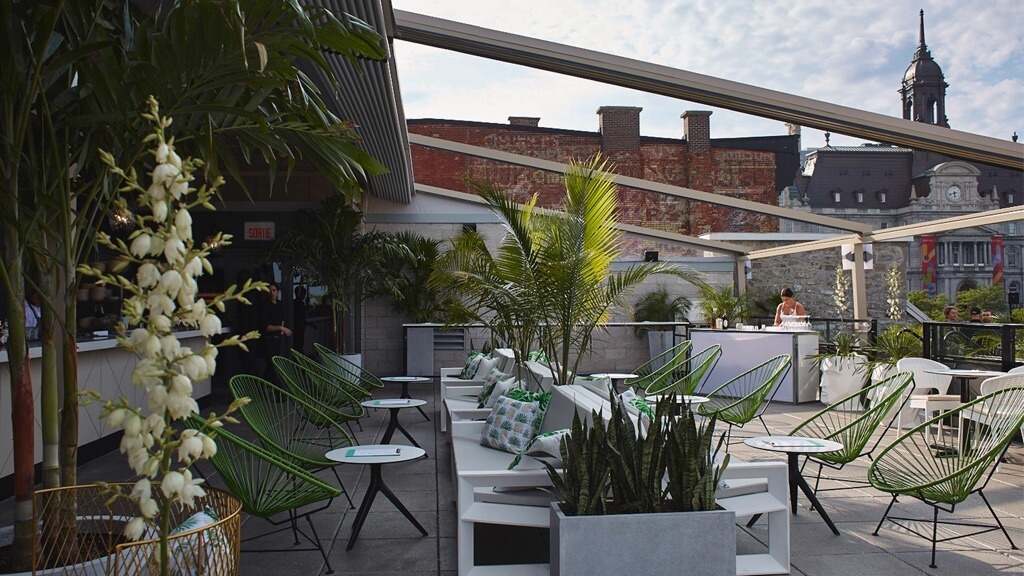 In short, Montreal offers a wide variety of restaurants and bars with a view over the city. Have these terraces inspired you to get your own? And build one on your business or personal rooftop? It is entirely possible to transform your flat roof into the perfect place to relax or have a good time, as long as you respect rules and regulations and obtain a permit prior to building.
The Clinique de la Toiture is here to help you turn your dream into a reality, so that you can take full advantage of the summer season. Contact us to find out more!
Was this article helpful to you? Share it!
Leave us your email address and we will contact you as soon as possible to assess your needs!
Put an end to your water infiltration your clogged drains your roof problems
Leave us your email address and we will contact you as soon as possible to assess your needs!