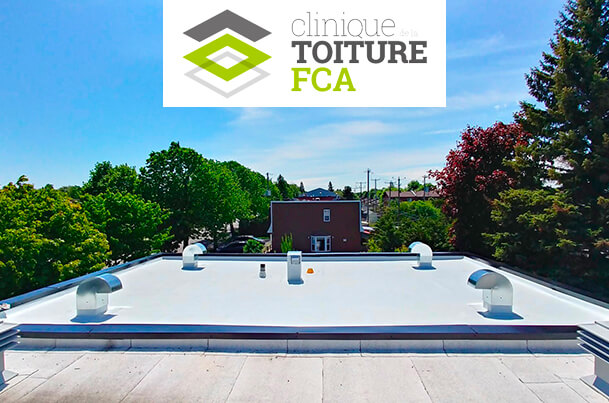 H1 title here8 things you need to know before renovating your roof!
Renovating your roof is a project that should not be undertaken lightly; in fact, you must not only plan a sufficient budget for the work, but also – and above all – make sure that it will be carried out properly to avoid damage to the structure of your home.
Whether you're thinking of hiring a roofing contractor or doing the project yourself, here are some important things to think about!
Identify your roofing needs
Just as you did when choosing a property to suit your needs, you'll need to identify your needs before you begin your roof renovation.
What type of material do you want to use: shingles? Sheet metal? A single-ply membrane?
Do you need to re-roof only a portion of the roof? Your entire roof?
Can you do the work yourself or will you need to hire a roofing company?
By identifying your needs, the extent of the work to be done as well as who will be doing the work, you will have a fairly accurate idea of what the project will cost; this will make it easier for you to plan your budget!
When to renovate your roof?
When properly maintained, a roof has a lifespan of 20 to 25 years; of course, unforeseen events or inadequate maintenance can mean that you will need to replace it in the short term. Conversely, a well-maintained roof could last a few years longer, depending on the type of material it is made of.
If your roof is more than 20 years old, it might be a good idea to have it inspected by a roofing contractor, who will be able to give you an accurate assessment of its condition. But there are other things that can alert you to the fact that it's time to consider re-roofing:
You noticed stains on the ceiling; this probably indicates water infiltration, so you need to act now.
Your roof is missing shingles or some of them are damaged.
You find shingle debris in your gutters, a sign that they are crumbling.
In the case of a sheet metal roof, it can last up to 50 years, but you may need to repaint it after a few years to restore its luster! However, attention should be paid to corrosion in and around the screws, which can lead to water ingress.
If your building has a flat roof, the condition of the membrane should be checked – or inspected – regularly. Although the membrane is strong and has a lifespan of 25 years or more, it is prone to tearing, especially if you don't use the right tools to remove snow.
It is also prone to damage from the weight of snow and ice, increasing the risk of water ingress.
How to choose the right roofing company?
When faced with a major investment such as a roof renovation, it is best not to choose a roofing contractor lightly! In fact, beyond the asking price, many other factors can influence your decision to hire one company over another.
First, check to see if the roofing contractor is registered with the Régie du bâtiment du Québec (RBQ) and has liability insurance; if so, also make sure that this insurance is valid for the entire duration of your work!
Next, get a quote from a few roofers and compare them; and make sure not to sign with the lowest bidder on the spot. Ensure that you get as detailed a quote as possible, with a list of the work to be done, so that you have an overview of what needs to be done.
Is the list of tasks comparable? Does any work seem to be neglected? Unnecessary? Are the materials used and the schedule for the job suitable?
Finally, it's a good idea to read reviews of these companies, so you can get a better idea of their expertise, service, and quality of work.
What type of covering should you install?
This depends on a number of factors, including your budget, the type of roof (pitched or flat) and any municipal bylaws that may apply. Indeed, you may not be allowed to use certain types of materials, or you may own a heritage home, in which case you will not have the freedom to modify your home as you wish, including the roof.
If your property has a flat or gently sloping roof, you can choose one of the following options:
TPO or EPDM membrane,
Elastomeric membrane,
Asphalt and gravel,
Etc.
However, a roof with a steeper slope can be made of:
Asphalt or cedar shingles,
Clay, slate or concrete tiles,
Metal (steel, aluminium, copper, zinc, etc.).
What about waterproofing?
When you have a roof redone, you obviously expect it to be perfectly watertight; no one wants to have to redo the work after a few months or, even worse, to have to spend thousands of additional dollars to repair water damage!
If you have hired a roofing contractor, they will make sure the new roof is watertight. If you do it yourself, pay special attention to the waterproofing membrane or, if it's a flat roof, make sure that the joints are completely watertight.
Budget for your roof renovation
How much does a roof replacement or renovation cost? It all depends on the size, the type of covering to be installed, where you live, the slope of the roof, the complexity of the work to be done, the contractor you hired, etc.
Here are a few figures that can help you get a clearer idea of the budget required:
Asphalt shingles: average $3 to $5 per square foot, but can be as high as $10,
Steel roofing: between $4.50 and $22 per square foot.
Knowing the size of your roof will help you estimate the total cost of your roofing project, but be aware that the price range for re-roofing is enormous: from $5,000 to over $50,000 depending on the size, type of roof and materials, plus labour.
Government subsidies
Of course, not everyone can afford to pay for a new roof, and even if it is possible, a little financial help is always welcome, right?
That's why you can take advantage of government grants such as Rénoclimat, RénoRégion, Maison écolo and many other programs and aids at the municipal level, for example.
What should i do after my new roof is installed?
Once your residential roof repair is complete, it is important to clean up around your home. Debris or nails may have fallen into the grass and although roofers always clean up before leaving, some debris may have escaped their attention.
Also check that your roofer has registered your warranty, so that you are covered in case of problems!
In summary
Whether you are renovating a commercial or residential roof, or replacing a roof, make sure you have all the necessary information (prices, materials, estimates, warranties, etc.) before you start the work; this way, you will avoid many unpleasant surprises!
Was this article helpful to you? Share it!
Leave us your email address and we will contact you as soon as possible to assess your needs!
Put an end to your water infiltration your clogged drains your roof problems
Leave us your email address and we will contact you as soon as possible to assess your needs!