Different flat roof types: which membrane to choose?
Is your roof in need of renovations, but you are unsure which type of flat roof to choose? There are several options available to you, including very different types of membranes.
Clinique de la toiture FCA is here to help you make sense of it all and explain the different types of roofing membranes available in Quebec, as well as their uses.
Make the right choice of membrane for your flat roof
Several things will help you determine which type of flat roof is best suited for you. It is important to take all of your needs into consideration.
Your budget most certainly cannot be overlooked: different types of membranes for flat roofs come with different prices. However, their durability also varies, as well as maintenance costs. So, these should definitely be considered as well, according to your short term and long term budget.
You must also consider other practical but essential things like the type of building the roof will be sitting on, and its structure. Sometimes a solar reflectance index is required, which will automatically direct you towards one type of flat roof as opposed to another.
To find out more and to make sure you are making the right decision, it is best to talk to a professional. An experienced roofer can advise you as to what is best adapted to you and your needs.
TPO
TPO is a type of roofing membrane for flat roofs that is increasingly popular, for many reasons. Firstly, it is a membrane made of a polypropylene and ethylene propylene rubber compound that is about 1.5 mm thick.
The membrane is installed in only one layer, and different sections are fused together at installation to ensure maximum waterproofness. All seams are hot-air welded, with a hot-air robot made especially for this. A manual tool will be used on irregular parts of the roof.
Amongst the several advantages it offers, there is the fact that it is the most affordable option on the market, with an average price of 7or 8 dollars per square foot. This price can reach up to $12 per square foot for more complex or very large projects, given the added cutting and installation work.
On top of being affordable, the durability it offers is one of the things consumers appreciate the most about it. Generally speaking, this type of roofing membrane for flat roofs lasts at least twenty years.
Another great advantage is that it is the only membrane that is 100% recyclable. It is made of ingredients that are non-toxic for the environment and, since it is hot-air welded, it does not require any glue.
It is extremely resistant, including resistance to:
UV rays
Atmospheric pollution
Tears due to impact
Humidity
Bacteria

Hot-air welding is another advantage since it makes the membrane even more resistant, given that it provides consistent wrinkle-free welding. This roofing membrane does not require any maintenance, which means you will save both time and money.
There is only one possible disadvantage with a TPO roofing membrane: because it is one single ply, an installation error or a tear can allow water to infiltrate.
However, when you deal with qualified professionals, these risks are extremely low! The Clinique de la toiture FCA has made TPO roofing membrane its specialty. Therefore, you will be in excellent hands!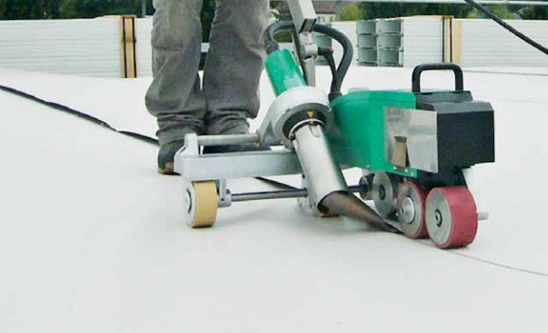 EPDM roofing membrane for flat roofs
Just like TPO, EPDM roofing membrane is a single ply membrane system that is installed similarly to the TPO membrane. However, EPDM membrane is joined together with glue or a specialized tape, which means without heat.
This roofing membrane for flat roofs is made of a propylene, ethylene, diene and monomer rubber compound. Its main advantage is its durability. Generally speaking, it lasts around twenty years, but it can last even longer. In certain cases, it can last around fifty years!
It is also the roofing membrane for flat roofs that resists best to rot. So, if you are considering a green roof, it can be an excellent choice. Given its elasticity, there are little chances that it will tear.
It has a good resistance to UV rays and temperature variations. However, glue and tape are not as resistant to cold. This means that you may have to consider more regular maintenance and repairs in order to keep your roofing in tip top shape.
It is also recommended to inspect your membrane twice a year. Yes, it is extremely durable, however, it will require a little bit more attention.
You should also take note that, even if the material it is made from is recyclable, since it is joined together with glue or tape, recycling then becomes impossible.
As for price, it is a relatively affordable option, generally around $9 to $12 per square foot.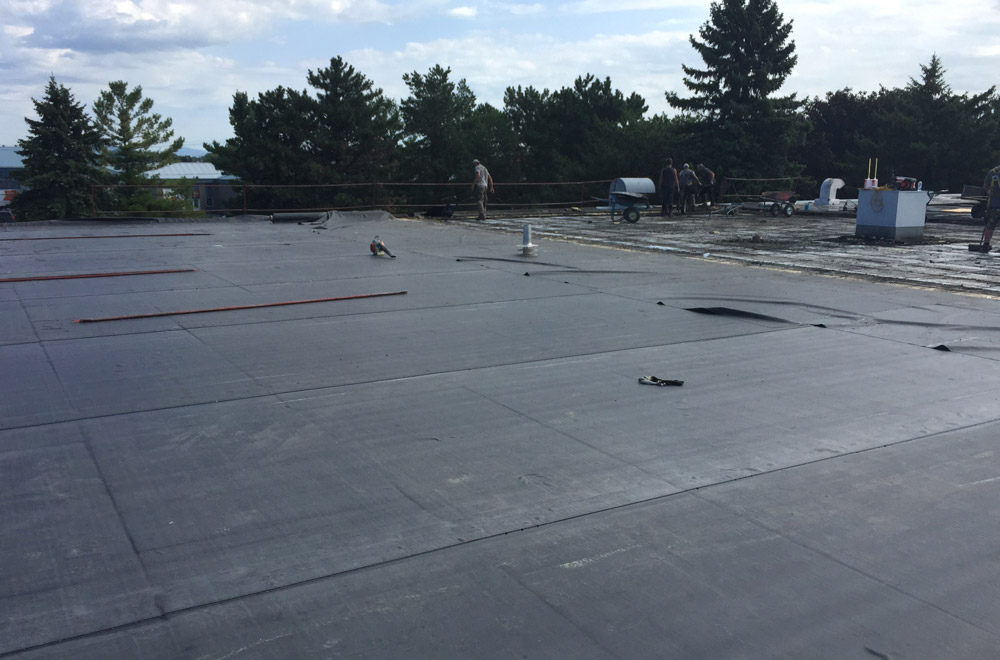 Elastomeric membrane
Elastomeric roofing membrane for flat roofs is a type of roofing made of a bottom asphalt layer and a granulated top. This means it has two layers, a bottom sub-layer and a gravel covered membrane. The membrane is made with natural and synthetic rubber. 
This membrane is installed with a torch, which means there is a fire hazard risk. Obviously, when you call upon the services of professional roofers, this risk is lowered to a minimum.
It is extremely durable, and generally lasts from 25 to 30 years. It too can last up to fifty years. Maintenance usually consists of removing debris like leaves and branches that may fall on it. This means it is quite easy to maintain in general.
However, it is extremely sensitive to stagnant water. Even if it is extremely durable when it is well maintained, should you ever overlook a water accumulation problem, you could reduce its life expectancy by around 10 years. Algae and ice can also cause the granulated top to age prematurely.
Moreover, it is also more costly than other options, and is generally around $9.50 to $15 a square foot. This type of membrane is decreasing in popularity in Quebec for the abovementioned reasons.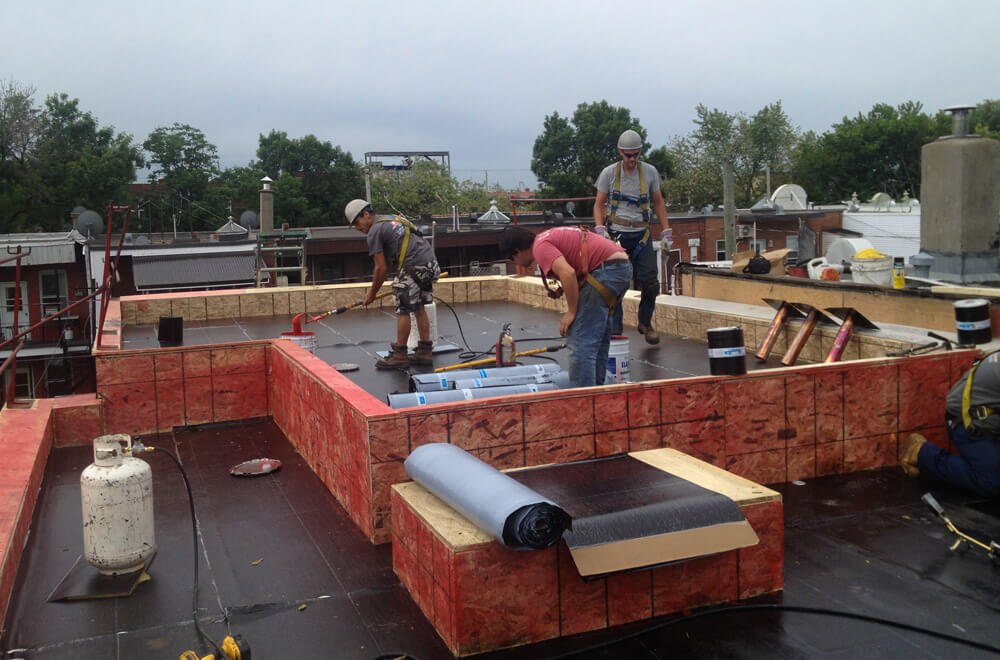 Asphalt and gravel
Even if newer roofs are generally covered with TPO, asphalt and gravel roofing is generally the type of flat roof found more frequently in Montreal. Older constructions, amongst other things, generally have this type of roofing.
The first step in the installation of this membrane is to lay about 4 to 5 layers of felt paper covered in asphalt. It is the liquid asphalt between each layer that insures the watertightness of the sheets. The second step is adding a layer of gravel. It is used to cover the asphalt, protecting it from damages caused by sunrays.
With this type of roofing, it is important to regularly ensure that the membrane is well protected. Wind and bad weather can cause the gravel to shift and expose bottom layers, which can also cause damages.
At least once a year you will have to climb onto your roof and make sure gravel is evenly spread out. You may have to add gravel. If you take good care and maintain this type of membrane well on your flat roof, if could last from 25 to 30 years. Take a look at our other blogs to find out more on flat roof durability and lifespan.
The fact that it is made of several layers is a significant advantage: the risk of water infiltration or of having water reaching the membrane is significantly reduced. This is also what makes it so durable.
If you are considering this type of flat roof, costs usually play around $7 to $12 per square foot.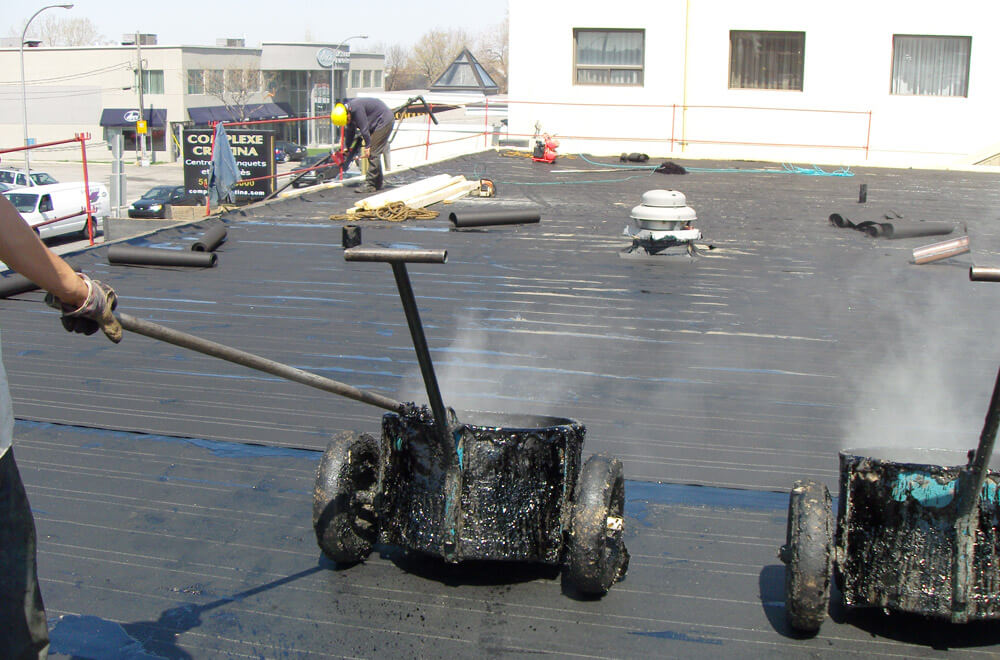 And what exactly is a white roof?
Several types of membranes can be used to make a white roof. For example, the TPO membrane is automatically white. White gravel is also often used to create a white roof.
Why are they so popular? Since the white color itself reflects the light, rays are less often absorbed by the roofing. This means that heat Islands are less frequent as well.
In practical terms, the heat is automatically reduced inside your residence and thus your energy consumption is also greatly reduced as well. Do not forget that if you do not have air-conditioning, a white roof is a great way to be more comfortable during the summer months.
Moreover, since it attracts less heat, a white roof also lasts longer than black roofs, as the latter tend to overheat. Between the comfort in your home, energy efficiency and roof durability, it is not surprising that white roofs are increasingly popular.
Would you like to find out more about roofing membranes or compare the different membranes? Contact our roofers at Clinique de la toiture FCA. If you need a re-roofing or need help with roof maintenance, our team of professionals is there for you!
Was this article helpful to you? Share it!
Leave us your email address and we will contact you as soon as possible to assess your needs!
Put an end to your water infiltration your clogged drains your roof problems
Leave us your email address and we will contact you as soon as possible to assess your needs!