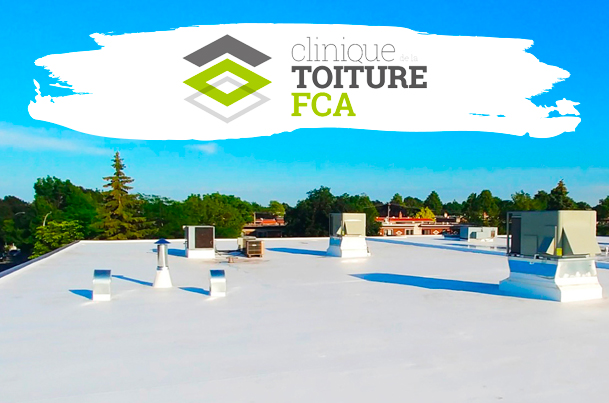 Can you paint a TPO roof? And can you do it in Quebec too?
If you are a property owner in the Montreal area, and you own or lease a building that has a TPO (thermoplastic polyolefin) roof that you would like to paint, you may be wondering:
How can I paint a TPO roof?
TPO is a fairly new roofing material that began gaining popularity with roofing contractors in the early 90s throughout North America.
It is found mainly on flat roofs, or a roof with a very slight gradient, and this roofing product quickly gained popularity because of its lower price and greater efficiency repelling the elements than other flat roofing materials being used at that time.
TPO is made of three layers – a TPO polymer base, a polyester reinforced fabric center and a thermoplastic polyolefin compounded top ply.
While more economical and easier to install than other roofing materials, TPO roofing was, and continues to be limited in the colours it's manufactured in – generally being available only in the colours of white, light grey and black.
The expert roofing team at Clinique FCA, our local roofing business, has worked with many building that feature TPO roofing, and one of the questions that the team often hears is how can I paint TPO roofing?
In some cases, TPO roofing that has been installed for several years can fade slightly, and often times, home and business owners find that the original colour of the TPO roof doesn't match their colour scheme or overall aesthetic for the building.
If you have a building with a TPO roof in the areas of Montreal, Montreal Nord, Montreal Est or Laval, or any of the surrounding communities, then it's best to get in touch with an established roofing company that has expertise with painting a TPO roof, because you want your roof to look its best, stay effective in repelling the elements and you want your investment to last.
According to the TPO roof specialists at Clinique FCA, there are several important steps to follow when painting a TPO roof that include surface preparation, application techniques and the proper choice of paint.
If you are thinking of tackling this job yourself, you don't want to damage the integrity of your TPO roof by using the wrong kind of roofing paint, so it's always best to follow to the experts, and read up on instructions, before undertaking any kind of roof work yourself.
The tips to follow when you paint a TPO roof include:
First, ensure that it is TPO that you have on your roof. As noted earlier, this product is generally white, light grey or matte black, and is mostly found on a flat roof, although in some instances it may have been installed on a roof with a slope.

Once you have established you have a TPO roof, then, using a hose and water, rinse the TPO roof thoroughly, removing any dirt, debris or any other materials that will get caught underneath your new coat of paint.

Then, based on recommendations from a national coating and paint company in Canada, the best paint to use to paint a TPO roof is elastomeric paint. If you use a good quality elastomeric paint, then that will eliminate the need to use a surface primer first. You want to make sure you read the instructions on the elastomeric paint container to ensure the best way to apply this paint, and which type of roller to use.

Then, apply your first coat of paint, and make sure you let it dry thoroughly, before adding a second coat.

If you decide not to use elastomeric paint, then ensure that you first prime your TPO roof with a water based primer, and then you may choose to paint the roof with acrylic resin emulsion paint – which is a common paint sold at most hardware stores. Please note that this type of paint requires a primer first.
Other reasons that people may choose to paint TPO roofing is to extend its life, and to protect the roof from the elements.
TPO roofing is thought to last approximately 20 years, however, this type of roofing is susceptible to damage from UV rays, hail and wind, high heat and pooling water – which can happen at any time.
It is thought that painting a TPO roof properly, with a recommended TPO paint, can help extend the lifespan of the roofing. It can also help strengthen the roof materials, as well as help fill small seams in the roofing, helping avoid leaks.
Clinique FCA in Montreal is proud to call ourselves the Flat Roof Specialists. Our company prides itself on our professional service and results.
If you have a TPO roof on your building located in the area of Montreal and its subdivisions, and you have questions on painting this type of roofing, please feel free to give us a call and ask for a free consultation and quote.
We have been in the roofing business since 1996, and we are proud of the expert services we provide to our customers.
Was this article helpful to you? Share it!
Leave us your email address and we will contact you as soon as possible to assess your needs!
Put an end to your water infiltration your clogged drains your roof problems
Leave us your email address and we will contact you as soon as possible to assess your needs!