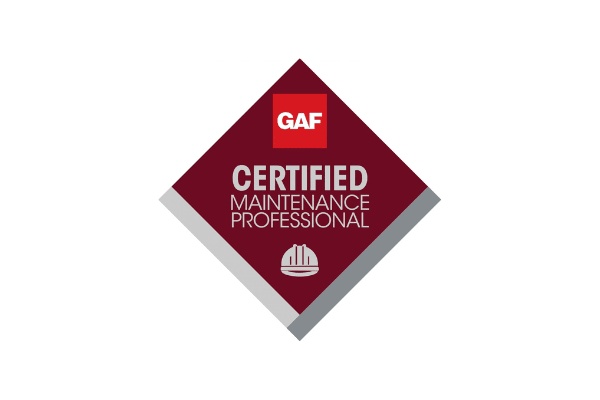 What is the GAF certification for roofers?
Did you know that the expertise of Clinique de la toiture FCA allowed us to obtain a certification from GAF, the largest manufacturer of roofs in North America? Indeed, our flat roofing specialists can carry out the repair or re-roofing of a flat roof, which will extend its lifespan and this, whether it is a residential or commercial roof. Don't entrust the repairs of your roof to a non-certified company, turn to the best roofers in Montreal, at Clinique FCA close to Laval, and ask for the lifelong GAF roofing system for residential roofs!
Using quality products for your TPO membrane or EPDM roofing is not enough; you must also make sure it is well maintained. Indeed, if the renovation of your roof can help to increase your return on investment, maintenance of your roof will allow you to prolong its lifespan, not least because of the harsh Quebec climate. By calling upon our specialists in commercial and industrial roof management in Montreal, you will be sure that your roof is in good hands, particularly since we are also certified by GAF in the CMP program (Certified Maintenance Professional)! In effect, this means that our experts will regularly inspect the air evacuators, the plumbing vents, the drains, the state of the insulation, the joints and possible sources of infiltration, among others, to ensure their effectiveness.
Maintenance is not to be neglected, since it has been proven that preventive and regular maintenance of roofs provides them with a 60 % superior lifespan over roofs that are not inspected and repaired when a problem arises. Why not take advantage of this to avoid the thousands of dollars of additional costs that would occur if a minor issue was overlooked and had disastrous consequences on the roof and your building?
To find out more about our GAF and CMP certifications, our green roofs (vegetated), our TPO membranes or any of our other products and services, contact us today at Clinique de la toiture FCA in Montreal!
Was this article helpful to you? Share it!
Leave us your email address and we will contact you as soon as possible to assess your needs!
Put an end to your water infiltration your clogged drains your roof problems
Leave us your email address and we will contact you as soon as possible to assess your needs!