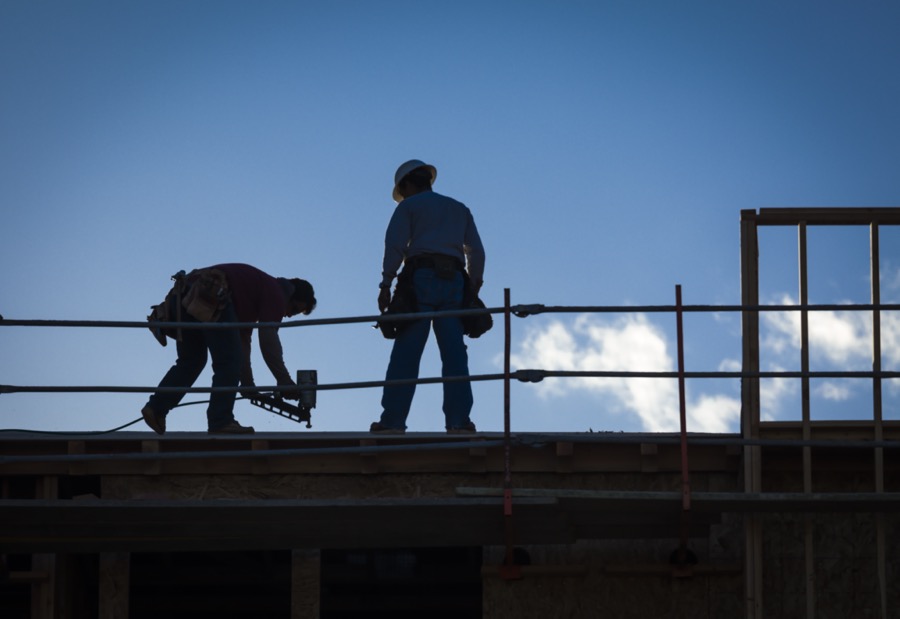 All you need to know about guardrail systems for your roof
Even though it might be relatively low, a roof is a place where people are prone to fall and suffer from severe accidents. This is why in order to ensure everyone's safety, generally speaking, safety laws involve mandatory guardrails on your roof.
Find out more about guardrails and the rules and regulations they fall under, as well as proper installation methods.
What are guardrails for the roof?
Guardrails are a type of barrier that is installed along the sides of the roof. It is meant to help prevent people who are on the roof from falling. For example, guardrails will protect the roofer while they are completing the job.
Guardrails can be installed permanently or temporarily. On flat roofs, guardrails are generally permanent. This is even more important if you use your roof as a terrace!
Moreover, several options will allow you to find perfectly esthetically pleasing guardrails, especially for your terrace. Several materials –including glass- can be used for a stunning and decorative effect, although the most important element remains safety!
This is the best solution to prevent workers from falling, or any other person completing tasks on the roof, regardless of it is a complete renovation or simple maintenance.
How long do guardrails last?
The life span for guardrails depends on several things, but mainly on the materials that are used.
Amongst the most common, you will find aluminum. It offers excellent resistance to severe weather and can even last for up to ten years. Some companies offer a 10 year warranty on aluminum guardrails.
Stainless steel is another very durable option for guardrails; it will remain solid as years go by and won't rust, as long as it undergoes proper maintenance. It is the most durable option, while aluminum has the advantage of being more affordable.
Wooden guardrails are more esthetically pleasing, though often less durable, given that they are more vulnerable to severe weather or temperature variations.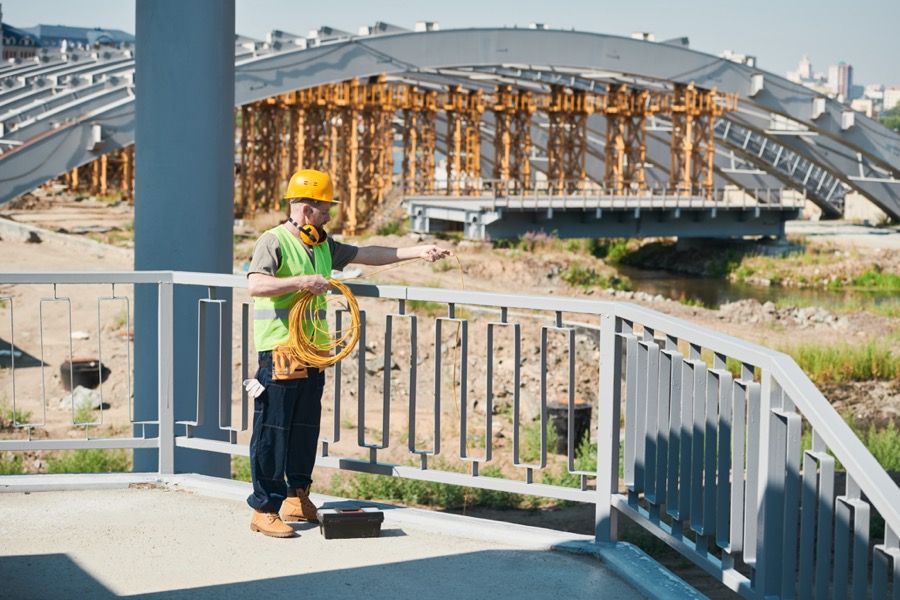 What are the rules and regulations for guardrails on your roof?
Guardrails for roofs fall under a different set of rules and regulations depending on the country and province. In Canada and in Quebec, guardrails are mandatory for any roof higher than 3 meters off the ground and where there is risk of a fall.
Since it must protect workers –or any person on the roof- adequately, guardrails fall under very strict regulations when it comes to the resistance they offer. They must obey the following rules and regulations:
CNESST (Commission des normes de l'équité et de la santé et de la sécurité du travail –or the occupational health and safety code)
RSST (Règlement sur la santé et la sécurité au travail –or Rules and regulations on occupational health and safety)
CNB (Code national du bâtiment –or National building code)
CSA (Canadian Standards Association)
OSHA (Occupational Safety and Health Administration)
Rules and regulations mostly specify the minimum weight a guardrail can withstand, both vertically and horizontally. For example, the CNESST demands a resistance to 900 N in terms of horizontal force and 450 N for vertical force.
Other structural elements also fall under these regulations, including a top, middle and bottom part to the guardrail (RSST). Openings for the floor are also included in the safety code.
If you are having a guardrail installed, it is important for you to ensure that it respects these rules and regulations by dealing with a reliable company or professionals.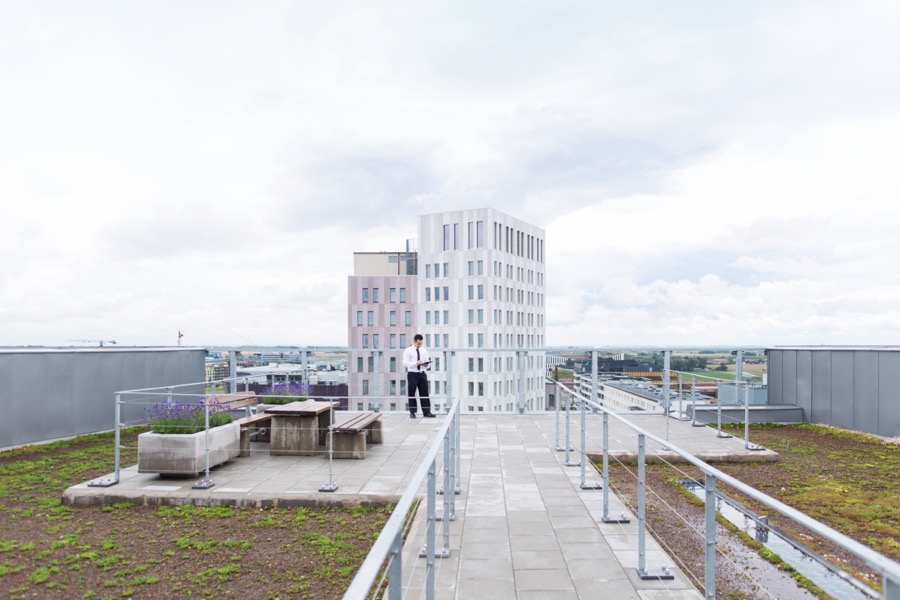 How to install a guardrail?
When installing a guardrail, it will come with an installation guide that you must follow to the tee. The guide will vary depending on the chosen model and the type of guardrail you wish to install.
In any case, you should first and foremost ensure that you have all of the protection elements required for the job, including a helmet, protection goggles and boots, but most importantly, a harness. It will protect you from falling, especially given that you will be working along the edges of the roof.
Then, you will need other tools, such as:
A drill
Sockets
A measuring tape
A level
A saw for the metal components
A dynamometric key
When you begin the installation, you will first have to position the bases at the appropriate distance from one another. Begin by placing them without fixing them so as to ensure the proper angle distance. Then, fixing the bases or not will depend on the model you have selected.
You can then assemble the different components that will support the posts and fix them to the base. You will now be ready to install the posts, and the top and middle parts of the guardrail according to the instructions. 
You may also have to cut the top and middle parts of the guardrail in order to obtain the desired length, which is why you need a metal saw. Guardrail kits usually include detailed instructions to make the installation process easier. However, you should know that you can always opt for a professional installation, which is generally very quick.
Otherwise, companies like La Clinique de la toiture FCA usually install temporary guardrails when working on your flat roof. However, a permanent solution is very advantageous if you often climb up and onto your roof, or if you have a rooftop terrace.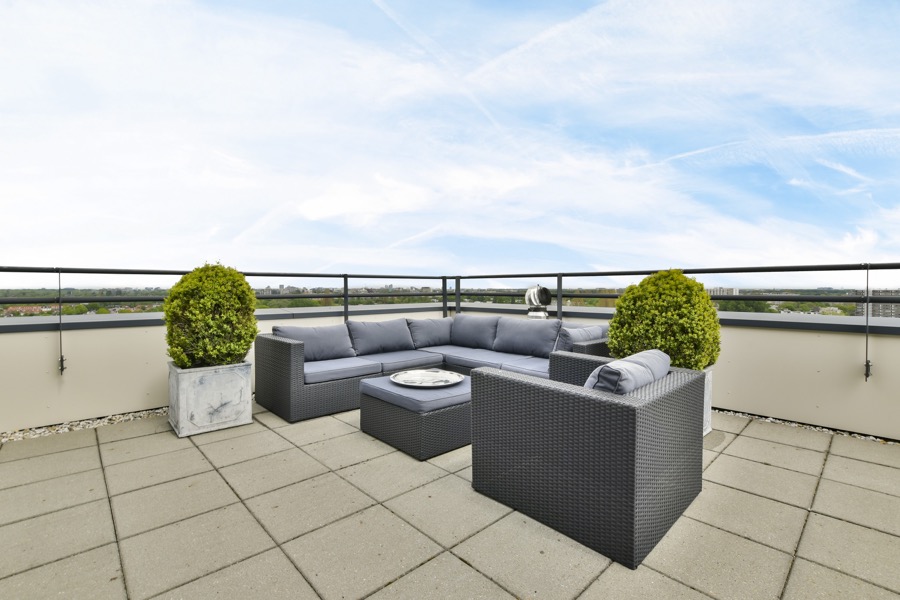 Different types of guardrails
There are several types of guardrails for roofs. As you might have guessed it, different materials can be used, like:
Aluminium
Stainless Steel
Wood
Glass panels
Etc.
However, it is not only a question of materials: there are also permanent and temporary guardrails as well as different categories or systems.
Free standing guardrail systems are often used because they are an affordable and easy to install option. "Free standing" simply means that it is not necessary to pierce through the roof membrane; they "stand" thanks to weighted bases, which also means they are very easy to remove.
A folding guardrail can also be an interesting solution. Although permanent, it can be folded when not in use, which makes it a discreet solution that blends into every style of building.
Different solutions for balconies and mezzanines are also part of the different types of guardrails. These obviously fall under much less strict rules and regulations.
So, no matter if you are looking for a permanent solution or simply a way to protect workers during a maintenance contract, several types of guardrails are available to you. In any case, you should know that La Clinique de la toiture FCA takes the necessary precautions to protect roofers with solutions that obey all rules and regulations.
For any type of work or repair done to your roof, do not hesitate to contact us!
Was this article helpful to you? Share it!
Leave us your email address and we will contact you as soon as possible to assess your needs!
Put an end to your water infiltration your clogged drains your roof problems
Leave us your email address and we will contact you as soon as possible to assess your needs!