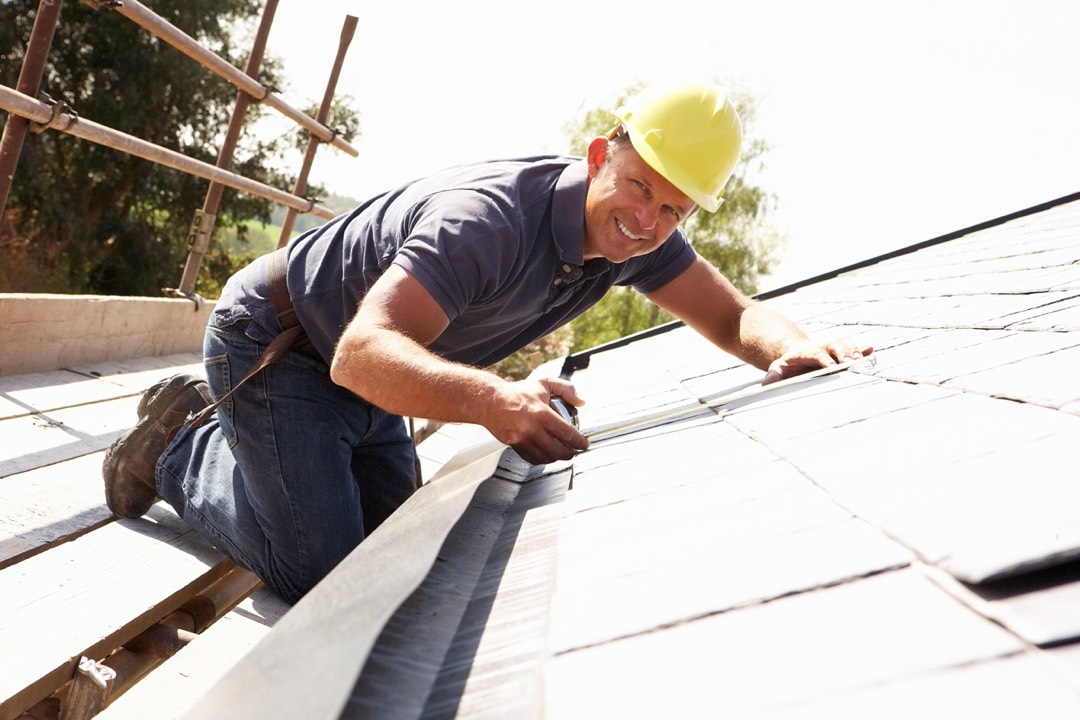 All types of roofing in Quebec
When you are thinking of building a new roof, there are two decisions you need to make. The first is the choice between a flat or sloped roof; the second is what the roof will be made of.
In Quebec, several different choices are available, all offering different advantages, depending on your preferences. Clinique de la toiture FCA shares its expertise by telling you all you need to know about the different types of roofing found in Quebec.
Flat roofs in Quebec
In Quebec, flat roofs are the most used for commercial and industrial buildings, but they are also increasingly popular for residential roofs due to their modern style. In Montreal, it is the most popular type of roof. Here are the different types of membranes and systems than can be found throughout the province.
The TPO roofing membrane
The TPO membrane is made from polypropylene and propylene-ethylene rubber that is around 1.5 mm thick in total. It consists of a thin layer with sections that are fused together with a hot air robot.
This type of roofing is a particularly affordable and durable option, which makes it one of the most popular on the current market. The durability it offers is mostly thanks to an optimal resistance to elements like UV rays, pollution, tears and much more!
Moreover, when it is installed by trained professionals like those from Clinique de la Toiture FCA, the TPO shows very low risks of infiltration.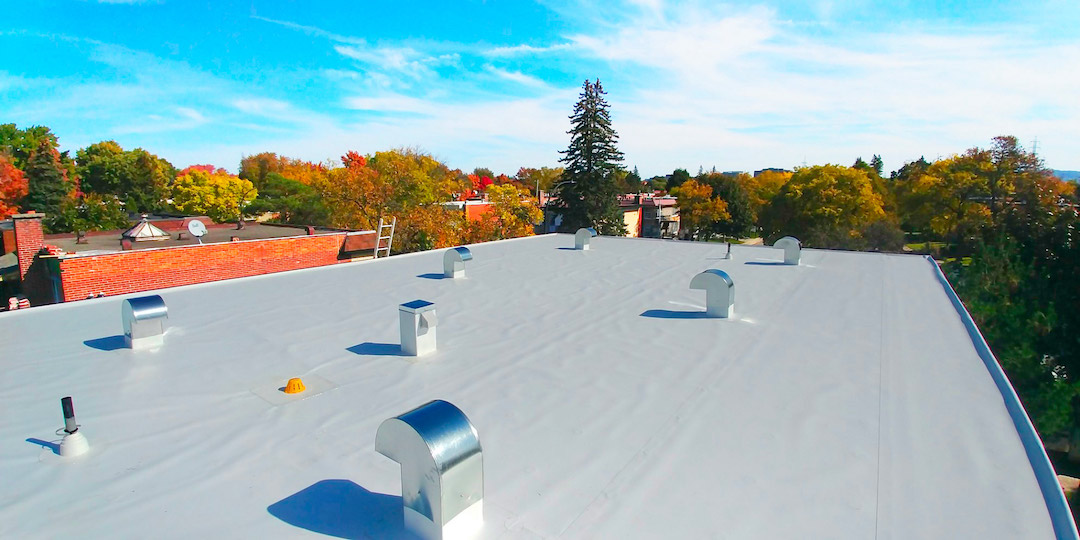 EPDM roofing membrane
The EPDM membrane is also particularly durable. It is laid down in one single layer, which gives it optimal waterproofness. Joints are sealed with either glue or tape, without any heat. Life expectancy is estimated at about twenty years, although durability can reach up to 50 years in the best cases!
The rubber compound it is made with also offers excellent resistance to mold and UV rays, although more care needs to be given to the tape or glue, since they can become more fragile in cold weather.
Elastomeric membrane
When it comes to multilayered roofs, elastomeric membrane is slowly replacing the gravel used for asphalt shingle roofs. It consists of modified bitumen that is made into a roll and laid in two layers, which are sealed with a torch or a hot air system.
Not only is it lighter than gravel, it also proves to be more resistant and durable, with a life expectancy that varies between 15 and 30 years. It is easy to care for and perfectly adapted to our climate. It is no wonder it is the most popular! It can also be white, which helps reduce heat islands as well.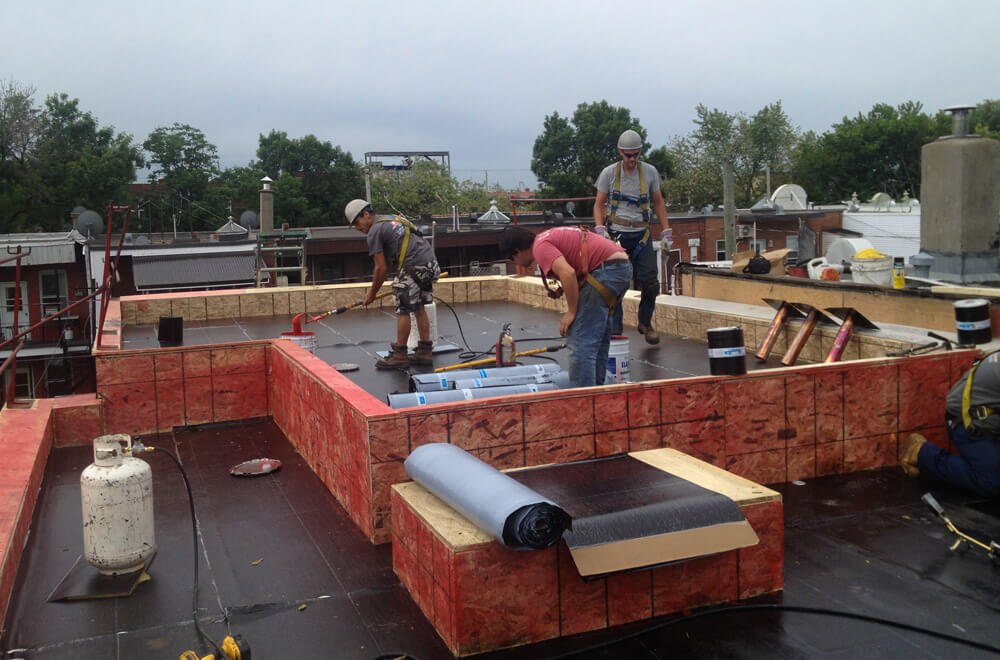 The environmentally friendly option: the green roof
A white roof is certainly a more environmentally friendly alternative, but a green roof even more so! A green roof consists of several layers, and can be a simple green roof or a full blown vegetable or flower garden, according to your taste and the time you wish to invest.
In any case, a green roof protects your roofing efficiently, especially from UV rays, noise and heat. It will also make your home more comfortable and is an excellent added value. This kind of project can obviously be more expensive than other options, depending on how extensive it is and what modifications will have to be brought to your roof prior to installation, if any.
The PVC membrane
PVC roofing consists of two layers of PVC, a membrane that is made from a particularly resistant thermoplastic polymer. Just like the TPO, it resists to UV rays and ice very well, and offers outstanding waterproofness when installed correctly.
The membrane is glued, then welded onto the roof in one single layer. It closely compares to TPO, although a little bit more expensive.
Multilayer asphalt roofing
Even if gravel is being replaced more and more by TPO membrane, there are still multilayer systems available, made from gravel and asphalt, which is a very common system in Quebec. It consists of several layers of asphalt that are superimposed and covered by a layer of gravel to protect it.
This system is quite popular due to its very affordable nature and optimal waterproofness, even though it requires bi-annual maintenance, mostly to spread gravel out evenly.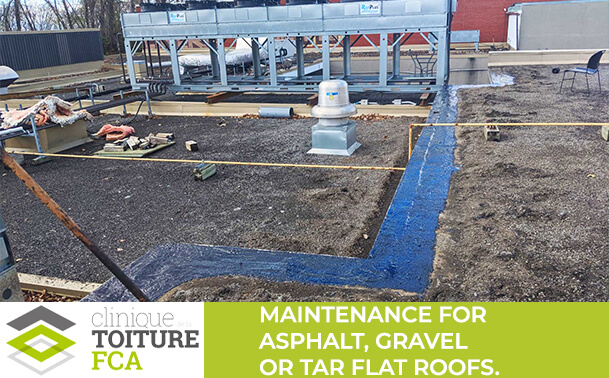 Sloped roofs in Quebec
Often the preferred choice when it comes to residential properties, sloped roofs have the advantage of evacuating water and snow easily. At Clinique de la Toiture, we specialize in flat roofs. We still want you to have as much information as possible about roofs and roofing, so our team of passionate experts are here ensure that you get the information you need about sloped roofs as well.
Asphalt roof shingles
Asphalt roof shingles is one of the most common types of roofing due to its affordable and practical nature. In fact, a roof made from asphalt shingles is easy to fix in case of damages, and offers many different types of styles and colors, depending on your taste!
Shingles can also be very durable. However, it is not an environmentally friendly option, nor does it allow you to reduce heat islands. Moreover, they are also more sensitive to UV rays and release chemical substances in the air.
2-sided roof
Here the term "side" is simply used to illustrate that there are two slopes or "sides" to the roof. For a 2-sided roof, both sides –even or not- meet in the middle, at the roof ridge. Affordable and easy to build, it is a classic style that is commonly used. Moreover, it leaves space under the roof that you can choose to utilize or not.
4-sided roof
Contrary to a 2- sided roof that has a more triangular shape, the 4- sided roof is closer to the shape of a pyramid. It includes 4 sides that meet in the middle. It is an option that offers excellent insolation, but it is more expensive than a 2- sided roof, due mostly to its more complex structure.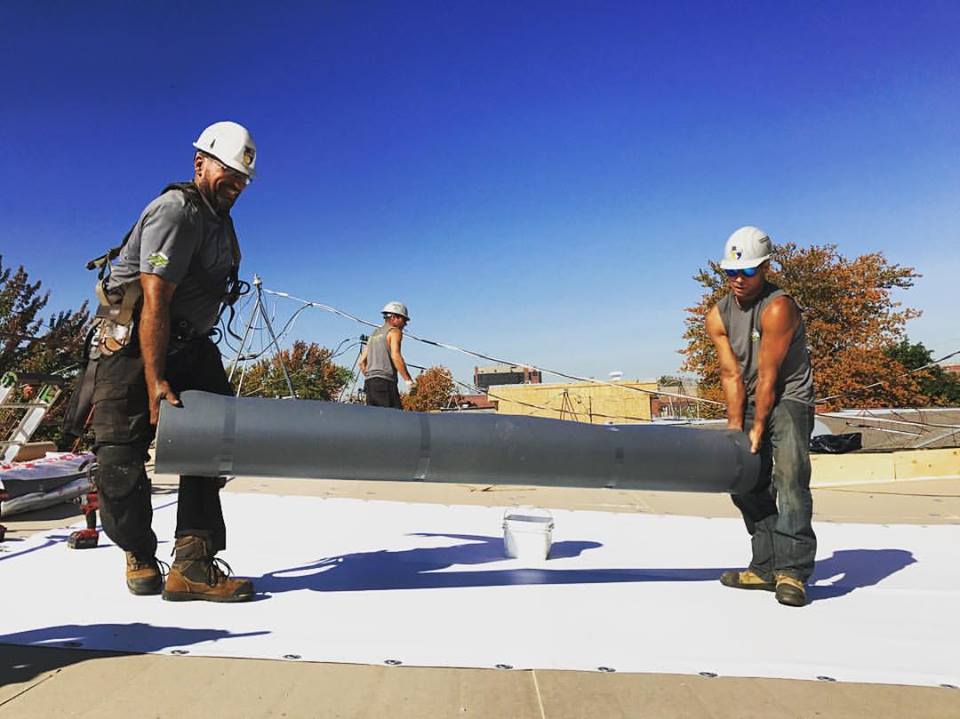 Sheet metal or steel roof
A sheet metal or steel roof is a more environmentally friendly option than asphalt shingles, given that it is made from a fully recyclable material. Moreover, it is an extremely durable option, with a life expectancy of over 50 years! A sheet metal roof can be made from painted or galvanized steel, or even copper.
This type of roofing is very resistant to UV rays and to temperature variations; it also allows snow to slide off easily. However, it is a more costly option that can also be quite noisy during heavy downpours, for example.
All in all, each type of roofing offers its own advantages. Which one will you pick? Should you decide to opt for a flat roof, do not hesitate to contact Clinique de la toiture FCA to get your project going! We will be happy to guide you towards the perfect type of flat roof for you!
Was this article helpful to you? Share it!
Leave us your email address and we will contact you as soon as possible to assess your needs!
Put an end to your water infiltration your clogged drains your roof problems
Leave us your email address and we will contact you as soon as possible to assess your needs!